Ten soldiers were killed and eight more injured after the Philippines Air Force mistakenly struck army positions in Marawi City partly occupied by Islamist militants, the defense minister said, adding that further airstrikes might be suspended.
"A group of our military army men were hit by our own airstrikes… 10 killed and 8 wounded," Defense Secretary Delfin Lorenzana said in a statement to the media, as cited by Reuters. "The coordination was not properly done so we hit our own people."
He suggested that "the fog of war" may have played a part in the mistake.
Lorenzana then suggested that airstrikes could be suspended as he believes the militants occupying several neighborhoods "cannot hold that long."
On Wednesday, Philippines President Rodrigo Duterte said that he "will not talk to the terrorists," referring to Islamic State-linked (IS, formerly ISIS/ISIL) Maute rebels who attempted to seize control of Marawi. Earlier, Duterte had urged the militants to talk.
While some 90 percent of the city is said to have been taken back under government control, there are reportedly hundreds of civilians still trapped in the war zone. Wednesday's official death toll reached 129 people killed in the fighting – 89 militants, 19 civilians and 21 government soldiers.
Philippines crisis: Military launches air assault on ISIS-linked fighters (PHOTOS)
Philippine Armed Forces are carrying out airstrikes against Islamic State-linked militants as fighting intensifies in the city of Marawi on the southern island of Mindanao.
The military unleashed a barrage of attacks Tuesday in an effort to regain control of the area after it was was overrun by insurgents from the Maute group last week.
"Precision airstrikes are judiciously used to prevent collateral damage and employed at specific targets of resistance to protect our troops and hasten clearing of the city of terrorist elements who continue to resist," said Brigadier General Restituto Padilla according to the state-run Philippine News Agency.
Despite the military effort, Philippine news agency ABS-CBN reports that IS flags are still on display around key bridges into the city.
Watch: Weapons,uniforms,ammos,ISIS flags,comm devices recovered from the Maute Group by Phil Marines in #MarawiClash pic.twitter.com/QrVVlqCHGi

— Edwin Sevidal (@EdSevidalDZMM) May 30, 2017
Areas in neighboring Iligan city are also on lockdown, according to a statement posted on the city's official Facebook page.
Padilla claimed that 65 terrorists have been killed during the eight days of fighting, while tens of thousands of civilians have been forced to flee their homes.
Thousands of others remain trapped in areas controlled by militants. Zia Alonto Adiong, a politician involved in efforts to evacuate residents, said people are worried they could be intercepted by the jihadists if they tried to flee.
The fighting erupted in the city eight days ago after a failed raid on the hideout of a leading Abu Sayyaf militant, Isnilon Hapilon, who pledged allegiance to Islamic State (IS, formerly ISIS/ISIL) almost three years ago.
The insurgents set fire to buildings and commandeered government vehicles as they seized parts of the city.
Philippine President Rodrigo Duterte subsequently invoked martial law on the entire island of Mindanao. The region has a significant Muslim population, though the Philippines is a predominantly Catholic country.
© Erik De Castro / Reuters
From February 2017
Filipino terrorists behead 70-year-old German hostage, release video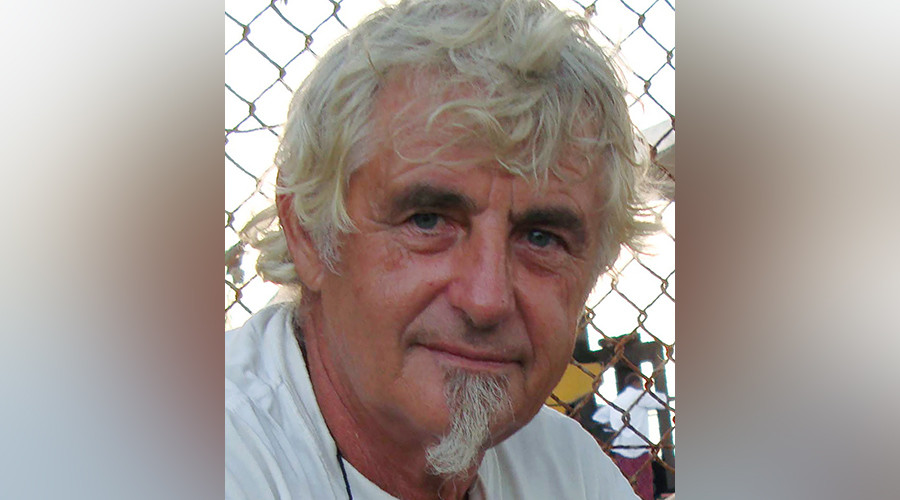 In the video released on Monday, the hostage, 70-year-old Jurgen Kantner, can be seen in a jungle clearing with his hands tied behind him. He can be heard saying the words "Now he'll kill me" before a man starts cutting Kantner's head off with a large knife.
Abu Sayyaf Group (#ASG) in #Philippines released the video of beheading #German national Jurgen Kantner pic.twitter.com/Mk4zUW390Q

— SITE Intel Group (@siteintelgroup) February 27, 2017
Kantner was being held by men loyal to Muammar Askali aka Abu Rami, a commander in the Islamist militant group Abu Sayyaf, for a sum of 30 million pesos (approximately $500,000) before talks for his release collapsed on Sunday, the deadline for the ransom payment. He had been kidnapped almost two months ago when he and his wife, Sabine Merz, were cruising through the Philippines in their yacht through an area controlled by Abu Sayyaf. Merz was reportedly killed when she tried to fight back with a shotgun.
The presidential adviser on the Philippines peace process, Jesus Dureza, gave a statement condemning the execution.
"We grieve as we strongly condemn the barbaric beheading of yet another kidnap victim," he said, as reported by Reuters.
"Terrorism has no place in a country like ours and we as a people must confront violent extremism every time it rears its ugly head. There must be a stop to this killing of the innocent and the helpless."
Kantner and his wife, both sailing enthusiasts, had survived being kidnapped by Somali pirates eight years earlier. In June 2008, the pair was sailing through the Gulf of Aden, off the Horn of Africa, when they were seized by the gang and held in a mountain hideout, during which time they were subjected to mock executions. They were released after 52 days after a reported ransom payment of $600,000.
Despite their horrific experience, Kantner and his wife were undeterred, even returning to Somalia to retrieve their boat, the Rockall, which had been damaged in the raid.
"My boat is my life and I don't want to lose her, nothing more. I don't care about pirates and governments," he told reporters from AFP in 2009. "They think that I'm insane, they call me the crazy white guy or the mad German sailor but they don't know how important my boat is to me.
"This is my life and it's wonderful. I have all my things on my boat and I travel to many places in the world. Sailing is how I want to live and die."
Abu Sayyaf started as a breakaway faction of the Moro National Liberation Front, a larger group which fought for independence for the poorer Muslim provinces of the southern Philippines. It has since grown notorious for its kidnapping of foreigners and killing them if ransoms are not paid.
According to the US State Department the group is one of the most violent terrorist organizations operating in the Philippines, although it seems to alternate between ideological and purely criminal objectives. Abu Sayyaf is believed to be holding 26 more hostages – 13 Vietnamese, seven Filipinos, a Dutch national, a Japanese, two Indonesians and two Malaysians.
The Philippines armed forces' Western Mindanao Command (Westmincom), tasked with dealing with Abu Sayyaf, reiterated its commitment to cracking down on the insurgents.
"Our troops are continuously conducting focused military operations to rescue the remaining hostages…. We are calling for the people of Sulu and Tawi-Tawi for renewed cooperation in order to stop the un-Islamic and barbaric activities of the Abu Sayyaf, particularly in the kidnapping of innocent civilians," said Major General Carlito Galvez, as quoted by Rappler.
Speaking from Geneva, Foreign Minister Perfecto Yasay said that Kantner may have been executed because he was unwell and thus a burden to his captors, Reuters reports. He added that the Philippines is seeking foreign assistance to locate the remaining hostages.
Warning, graphic!!
---