FILE PHOTO © Elva Etienne / Getty Images
A 16-year-old girl was raped by two Afghan men near a refugee camp in Bavaria, according to German police. A third one was prevented from sexually abusing the girl by a passerby.
According to a police statement, the teenager had gathered with a large group of people outside a refugee center in the upper Bavaria municipality of Höhenkirchen-Siegertsbrunn, located south of Munich.
She later proceeded to walk to the train station without the larger group, but with three Afghan asylum-seekers, who initially were part of the group, the statement says, adding that it was "when the assault … took place."
Two of the men, aged 27 and 17, raped the girl behind a hedge in front of an abandoned building. A third Afghan refugee, 18, also attempted to rape the girl but was prevented from doing this by a passerby, who arrived at the scene and prompted the three Afghans to flee, the statement says.
Following the incident, police launched a "large-scale manhunt" on the assaulters, involving a helicopter search, and managed to detain them not far from the crime scene.
While the 27- and 17-year-old suspected perpetrators remain in custody, the third one walked free after a judge ruled the man did not pose any further threat or intended to flee.
Although the three men are asylum-seekers, they do not live at the refugee center near the scene of the rape, according to the German Merkur magazine.
Höhenkirchen-Siegertsbrunn Mayor Ursula Mayer described the incident as "terrible," adding that her initial information indicated the three men had been drunk. However, police have not confirmed whether that was the case.
The incident came just days after a separate attack in the Bavarian city of Rosenheim saw a failed Nigerian asylum-seeker attack and rape a jogger. The woman managed to break free and the man was later arrested, Bavarian Radio reported.
According to Bavarian Interior Minister Joachim Hermann, the number of sexual assaults in his federal state rose by 48 percent in the first half of the year. He cited statistics which also indicate the number of cases in which refugees are the suspects increased by 91 percent.
The issue of migrants has been a hot topic in Germany since the refugee crisis of 2015, during which the country accepted more than one million asylum-seekers, as part of Chancellor Angela Merkel's open-door policy for those fleeing war and persecution.
The policy has been slammed by opposition parties and even some members of Merkel's own CDU party, with critics citing safety and security concerns. Merkel later admitted that her slogan 'We can do it,' referencing Germany's ability to handle large numbers of refugees, became an "empty statement."
At the same time, Merkel has continued to defend her open-door policy, stating last month that if she had it to do over, she would "make all the important decisions of 2015 the same way again."
Numerous other attacks committed by asylum-seekers have been reported since 2015, many of them in Bavaria.
In addition, an April report by Der Spiegel said that thousands of Afghan refugees who arrived in Germany admitted during interviews with the German Federal Office for Migration and Refugees (BAMF) that they either had contacts with some radical Islamist groups in Afghanistan or had directly fought for extremists.
Germany has also fallen victim to numerous terrorist attacks committed by refugees and claimed by Islamic State (IS, formerly ISIS/ISIL), including a 2016 Christmas market attack in Berlin which saw 12 people killed when a Tunisian asylum-seeker rammed his truck into the event.
In July, Germany's domestic intelligence agency (BfV) warned that new potential terrorists could be "possibly entering Europe under cover as part of the migration movement."
……………………….
3 asylum-seekers in Germany accused of violently raping woman '3 times each'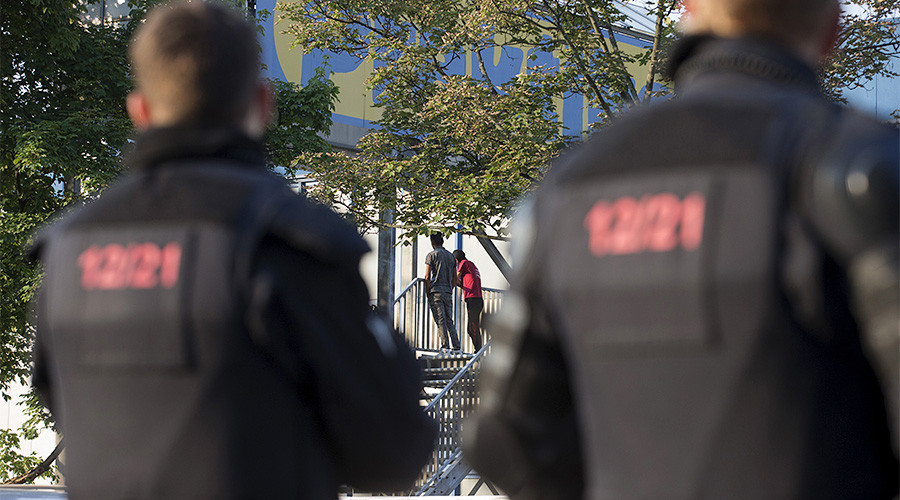 © Axel Schmidt / Reuters
A 28-year-old woman in Muhlhausen, Germany has identified three Ethiopian men who she claims repeatedly raped and beat her during a local carnival. The victim revealed some of the horrifying details in court.
The three suspected attackers, between 23 and 29 years old, were identified by the victim in regional court in the federal state of Thuringia earlier this week.
"Each of them raped me three times," the woman said during her hours-long statement before the court, German media reported.
The victim claimed she had been lured into a secluded area near the railway station during local carnival celebrations last August. She attempted to flee, but the three suspects allegedly caught her, took her mobile phone, and forced her to engage in unprotected vaginal, anal, and oral sex.
The woman told the court she had also been beaten, kicked, and pulled by the hair by the suspected attackers, with one of them filming some of the violence with her smartphone.
The hearing became so emotional, it had to be interrupted, with the next date set for mid-July, according to media reports.
In the months-long trial, prosecutors have charged the three Ethiopian men with group rape and bodily harm based both on the victim's testimony and DNA tests, but all of them deny the accusations.
While one of the suspects claims he had consensual sex with the woman during the carnival while "very drunk," the other two claim they went to bed early that night and had no involvement in the incident.
The rape case in Muhlhausen, a city of around 33,000 inhabitants, is just one of many recent incidents in which refugees in Germany have been accused of sexual assault. In late March, German prosecutors charged an Afghan migrant with the murder and rape of a 19-year-old medical student in Freiburg. In the north of the country, two asylum-seekers were placed under investigation after five teenage girls claimed they were sexually harassed in a swimming pool in February.
One of the most highly-publicized incidents happened in 2015 on New Year's Eve in Cologne, with almost 1,200 criminal complaints being made to police, around 500 of which were related to sexual assault. The events in Cologne led to public outrage against German Chancellor Angela Merkel's open-door policy for refugees, as many of the sexual assaults were allegedly committed by men described as being of North African or Middle Eastern descent.