The level of stupidity, hypocrisy is just what we should expect from fascists.
Joe diGenova: Kavanaugh Inquisition Is Our Future with Democrats in Power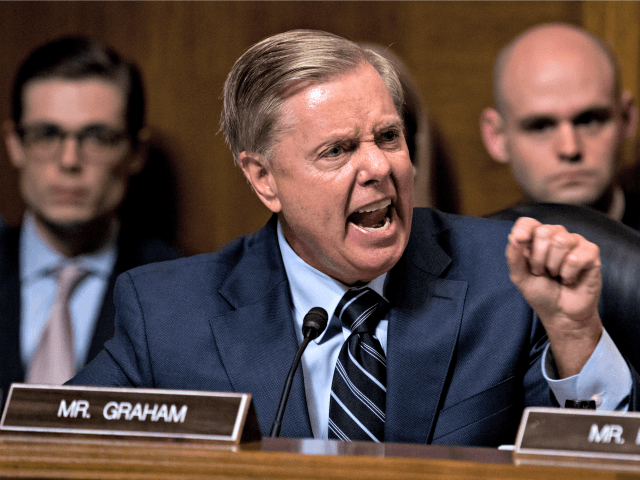 Former U.S. Attorney Joe diGenova framed Thursday's Senate Judiciary Committee hearings with Christine Blasey Ford and Supreme Court nominee Judge Brett Kavanaugh as glimpses of America's future with Democrat congressional majorities. He offered his remarks in a Friday interview with Breitbart News Editor-in-Chief Alex Marlow on SiriusXM's Breitbart News Daily.
DiGenova said, "What you saw on display by the Democrats on that committee was the raw political power that they will wield against people of goodwill, and all you have to do to know that is what's going to happen is look at what the IRS did to conservative groups under Lois Lerner and John Koskinen."
DiGenova continued, "This is the future of our country if the Democrats get control of the House and Senate. They are vile people. There is nothing good anymore to be said about the Democratic Party. They have eschewed all integrity [and] honesty in pursuit of power. They are an ugly people, and they need to be beaten down politically and defeated."
LEVIN: Brett Kavanaugh's Supreme Court nomination faces delay for more FBI investigation
Tom Fitton: The Senate Owes #BrettKavanaugh an Apology–Allegations DID NOT Warrant a Public Hearing
Let your senators know what YOU thought about the Kavanaugh hearings this week–call 202-224-3121.
Apparently it's only sexual assault &domestic violence when there is absolutely no evidence or anyone 2corroborate the incident in the hollowed out minds of these looney leftists. When proof beyond a reasonable doubt is present &the subject is a liberal, then Dems &MSM are…meh. pic.twitter.com/m8GyA11uow

— GRIZZ ? (@grizzlemeister) September 30, 2018
Everything on the left, everything from the left is FAKE!!