FILE PHOTO: The Ecadorian embassy in central London © Toby Melville / Reuters
What does Julian Assange and Tommy Robinson have in common? They have both lost their freedom for speaking the truth in the land of Magna Carta, of all places. What is that for irony!?
Via RT
WikiLeaks founder Julian Assange is a step closer to being evicted from the Ecuadorian embassy in London after President Lenin Moreno said the whistleblower must "eventually" leave the facility.
"Yes, indeed yes, but his departure should come about through dialogue," the Ecuadorian president said on Friday answering a reporter's question on whether Assange will eventually have to leave.
"For a person to stay confined like that for so long is tantamount to human rights violation," Moreno said. He added that Ecuador wants to make sure that nothing "poses danger" to the whistleblower's life.
The news came on the heels of earlier reports that the founder of the whistleblowing portal would be handed over to British authorities. Assange's relationship with Ecuadorian officials had appeared increasingly fraught, with the country, which provided him with asylum and citizenship, cutting off his internet connection in March.
The official reason behind the move was to stop Assange from "interfering in the affairs of other sovereign states," Ecuador said at the time. Efforts to have an arrest warrant against Assange dropped by the UK failed earlier this year.
The whistleblower is feared to be facing extradition to the US over troves of leaked documents. In 2010, WikiLeaks published classified US military footage entitled 'Collateral Murder.' It featured a US Apache helicopter gunship opening fire on a number of people killing 12, including two Reuters staff, and injuring two children.
Multiple activists and human rights groups have been demanding to free Assange. In 2016, a UN panel also found that Assange's stay in the embassy amounted to "arbitrary detention," but nothing has changed since then.
The reason behind Ecuador's change of heart towards the whistleblower is unclear, but "pressure has been brought to bear, presumably by the United States," human rights activist Peter Tatchell believes.
"The prospect of the president revoking those protections that go with citizenship and asylum, that's a very very big deal, very big step to abrogate the right to protect an Ecuadorian citizen,"Tatchell told RT.
The rights activist said that the WikiLeaks founder is actually a "hero" who shed light to the government and military abuses, and certainly does not deserve the prosecution and a prison term. However, Washington simply "wants revenge" for "embarrassment" WikiLeaks caused it and wants it to serve "as a deterrent to others."
"Someone who's published that information in the same way that the New York Times or the Guardian publish information, I don't think they should face risk thirty or forty years in jail in the United States," Tatchell said.
Prosecuting Assange for journalism a move towards 'dark ages of ignorance', say whistleblowers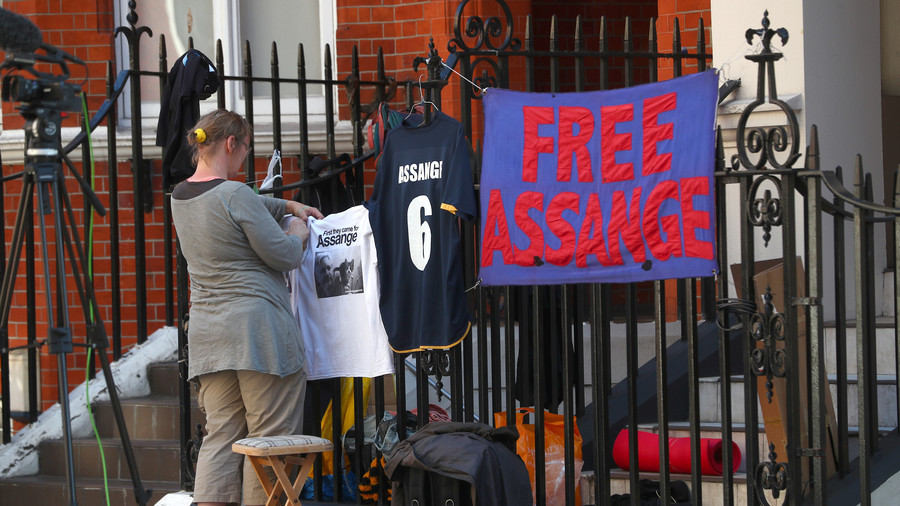 © Hannah McKay / Reuters
Julian Assange and WikiLeaks perform a valuable public service and should be praised rather than vilified, former CIA and FBI agents told RT America, adding that prosecuting Assange would be a disgrace for freedom of the press.
"Julian performs a function that no longer exists in the mainstream press, and he should be rewarded rather than vilified,"former CIA analyst Ray McGovern said, appearing on RT America's Debate Week news special.
"He's been promoting the truth. He even got a left-handed compliment from the US intelligence people by saying that the reason WikiLeaks is believed is because they don't adulterate any of the information they have," McGovern added.
The reference was to emails from the Democratic National Committee and Hillary Clinton's campaign chair John Podesta, released by WikiLeaks during the 2016 US presidential campaign. Special counsel Robert Mueller has accused the Russian military intelligence service GRU of obtaining the emails by hacking and of using WikiLeaks as a "cutout" to make them public.
US prosecution of Assange would be shameful, McGovern argued, but the real shame would be on those who "profess to believe in a free press but, when push comes to shove, they're obsequious to the powers that be."
Former FBI agent and whistleblower Coleen Rowley agreed that going after Assange was shameful, and that the mainstream media clamoring for his head are going against their own self-interest.
"They aren't thinking ahead at all. They will be the next julian assanges, as soon as they try to expose any serious wrongdoing,"Rowley told RT America.
Whistleblowers are basically witnesses, Rowley added, without whom the FBI would have never uncovered serious crimes such as Bernie Madoff's massive investment fraud.
"We're going into almost the dark ages of ignorance if we shut down whistleblowers," Rowley said. Yet the media see themselves as a combatant in a war, siding with the US government in suppressing the truth of US behavior across the world.
"They think they need to suppress the truth in order to control public opinion," Rowley said.
WikiLeaks blew the lid off US policies in 2010 when they published thousands of State Department cables and the Pentagon's Afghan War and Iraq War "diaries," handed to them by a US Army private who worked as an intelligence analyst. Chelsea Manning was arrested and sentenced to 35 years in prison under the Espionage Act, but President Barack Obama commuted her sentence just before leaving office.
Facing arrest and possible extradition to the US, Assange sought asylum at the Ecuadorian Embassy in the UK in August 2012, where he has been confined ever since. In March this year, the new government of Ecuador cut off his internet access and blocked him from receiving any visitors, citing his political activism, particularly the remarks he made about Spain's crackdown on the Catalonia independence movement.
There have been persistent rumors in recent weeks that Ecuador was preparing to withdraw Assange's asylum and hand him over to the UK, with London expected to extradite him to the US. Prosecuting Assange for publishing classified materials and purloined emails, however, would be the first instance of American authorities going after a publisher since a British colonial governor of New York tried to do so in 1734, McGovern pointed out in a recent article.
John Peter Zenger was acquitted by a jury because what he printed about Governor William Cosby was factual – something WikiLeaks can also claim with confidence, McGovern wrote.
Rowley said she hoped that people in the government and the media will come to their senses. "Unfortunately right now, I think insanity is almost the rule," she said.
McGovern and Rowley took part in RT America's Debate Week news special on Thursday, with guest hosts Jimmy Dore and Scottie Nell Hughes.