And so it begins: YouTube is now adding "fact checks" to videos which question the man-made global warming scare narrative.
According to Buzzfeed News:
YouTube is now adding fact checks to videos that question climate change, BuzzFeed News has confirmed, as a part of its ongoing effort to combat the rampant misinformation and conspiratorial fodder on its platform.
On July 9, the company added a blurb of text underneath some videos about climate change, which provided a scientifically accurate explainer. The text comes from the Wikipedia entry for global warming and states that "multiple lines of scientific evidence show that the climate system is warming."

This new feature follows YouTube's announcement in March that it would place descriptions from Wikipedia and Encyclopedia Britannica next to videos on topics that spur conspiracy theories, such as the moon landing and the Oklahoma City bombing. In doing the same for climate videos, the company seems to be wading into more fraught and complex intellectual territory.
Sure, in many ways it's a trivial and pathetic gesture. Quoting Wikipedia as your credible source is a bit like citing CNN as the go-to site for all the latest info on Donald Trump. And anyway, that "scientifically accurate explainer"  is at best vague, at worst far more misleading than the videos it is supposed to be "fact checking."
It says:
"Global warming, also referred to as climate change is the observed century-scale rise in the average temperature of the Earth's climate system and its related effects. Multiple lines of scientific evidence show that the climate system is warming."
So the records show that there has been some gentle warming of less than 1 degree C since the world began emerging from the Little Ice Age a century and a half ago. So what? This whole line of argument is a Straw Man, which wilfully misrepresents the sceptical position. It's not whether or not climate changes that preoccupies sceptics. It's whether recent warming is significantly man-made – and if it is, whether, it's something we should worry about, and whether it's within our means or in our interest to do anything about it anyway.
But the real issue here, of course, is that like Big Tech's near-blanket banning of Alex Jones, it's the thin end of the wedge.
We know that, given half the chance, Big Tech would like to go much, much further in its censorship of viewpoints which run counter to the prevailing Silicon Valley 'progressive' narrative.
We also know that it is being pushed in that direction by leftist politicians and activists and media outlets.
The George-Soros-funded Media Matters for America, for example, recently published a long screed excoriating Mark Zuckerberg for hosting climate sceptical articles, videos and adverts on Facebook.
Facebook, well-known as a breeding ground for misinformation, has a particular problem with disseminating false and misleading messages about climate change science. The platform spreads climate-denying videos and other posts, hosts climate-denying ads, and officially partners with climate-denying media outlets and organizations.
So far, Zuckerberg has held firm. But for how much longer?
What cannot be stated often enough about "climate change" is that it is much more of a political issue than it is a scientific one.
There is no credible evidence that recent warming is unusual, worrying or unprecedented. Nor is there any credible evidence that it is significantly man-made. Nor yet is it obvious that we have the power to control the climate – or that it would be advisable to try to do so.
So, because the actual science has been so unhelpful to their cause, the people pushing the alarmist narrative have been forced to promote it by other means. To a large degree, these "other means" have entailed shutting down the opposition.
After all, if you can't win an argument on facts, you only hope of victory is to ensure the other side never gets heard.
And what better way to silence your opponents by declaring their articles and videos "fake news" – and hiding the truth in the guise of public interest?
Facebook blocked California Republican Congressional candidate's video
California Republican Congressional candidate Elizabeth Heng on Facebook blocking her ad and then reversing its decision.
Gun Groups that Posted 3D Print Files Say Facebook, Amazon Censored Them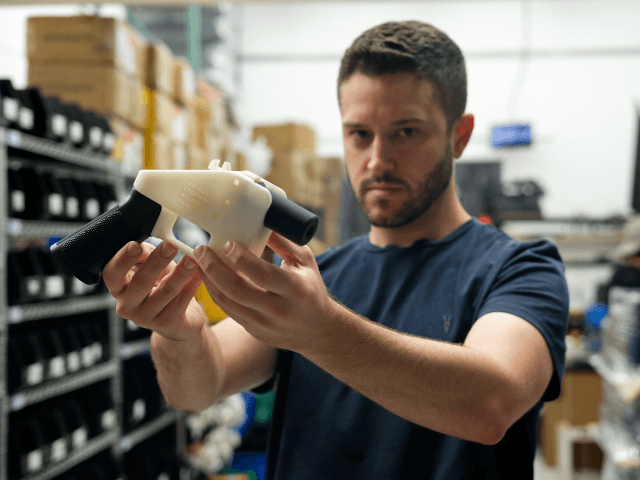 Gun groups that posted 3D print files for guns and gun parts claim they have been censored by Facebook and Amazon.
On August 1, 2018, Breitbart News reported that a coalition of gun rights groups posted files to the internet, saying "code is free speech." That coalition now says Facebook blocked the site on which the downloads are available and Amazon removed the site from its servers.
The Washington Free Beacon reports that gun rights coalition publishing the files consisted of the Firearms Policy Coalition, Calguns Foundation, Firearms Policy Foundation, and the California Association of Federal Firearms Licenses.
Firearms Policy Coalition's Brandon Combs commented on the alleged censorship, saying:
It was humans involved with Amazon just like in Facebook. This is not an algorithm-based issue, they were making human policy decisions. And the issue at Amazon is not done yet. It's been escalated, and frankly I think many enterprise-clients view this as troubling because [it's one thing] if you have legal speech that is simply protected and somebody files a complaint, but if it's just as simple as saying 'unwanted content' to take down an instance at AWS [Amazon Web Services], then nobody's safe.
On August 6 Breitbart News reported that Facebook banned Alex Jones' Infowars from its social media platform, but retained Antifa and Louis Farrakhan.
On August 7 Breitbart News reported that Facebook is seeking bank customers' financial information at a time when banks, credit card processors, and other financial companies are severing ties and/or placing tighter regulations on gun manufacturers, gun sellers, and gun rights organizations.
For example, NBC Los Angeles reports Bank of America will no longer offer "financing to companies that make AR-style guns" and Citibank has made clear their gun store customers must implement Citibank-approved gun controls in order to continue doing business with the financial institution.