Jobless claims unexpectedly fell again last week to the lowest level since November of 1969.
First-time claims for state unemployment benefits came in at 201,000, down from 204,000 in the previous week. Economists had predicted a rise to 210,000.
Jobless claims are a proxy for layoffs and have been closely watched for signs that trade disputes and escalating tariffs could be costing Americans jobs. Record lows indicate that what many have described as a "trade war" is weighing far less on the U.S. economy than predicted by critics of the Trump administration.
Weekly jobless claims can be volatile so economists often look to the four-week moving average of initial claims.  This declined by 2,250 to 205,750, the lowest level since December 1969.
Related
Stocks Hit All-Time Highs as U.S. Shows Strength in Trade War with China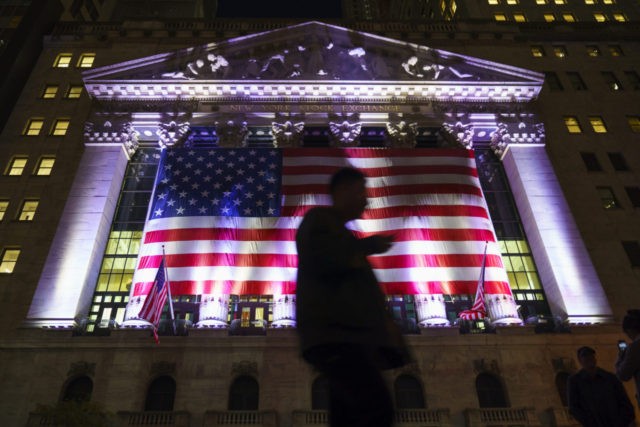 President Donald Trump celebrated stocks hitting their highest levels ever by congratulating the United States on the accomplishment.
The Dow Jones Industrial Average rose 0.83 percent in morning trading Thursday, leaping over its previous record set on January 26. The S&P 500 added six-tenths of the percentage point, rising above the last record set in August. The Nasdaq Composite rose nine-tenths of a percentage point.
S&P 500 HITS ALL-TIME HIGH Congratulations USA!

— Donald J. Trump (@realDonaldTrump) September 20, 2018
Escalating global trade disputes have not weighed on the U.S. economy as much as critics of the Trump administration predicted. In fact, they have barely shown up in economic data at all. On Thursday, the Labor Department said new jobless claims last week were at the lowest level in 49 years, defying forecasts that tariffs would cost U.S. jobs.
The new records come just days after the Trump administration announced that it was placing tariffs on an additional $200 billion of Chinese goods and China retaliated by promising to impose tariffs on $60 billion of U.S. goods. The U.S. and Canada have also not yet come to an agreement that would include Canada in the new trade pact set to replace the North American Free Trade Agreement.
Jobless claims fall to a 49-year low
Brian Brenberg, business professor at The King's College, on President Trump's trade war with China and how jobless claims fell to a 49-year low.
Video: Fox Business