---
A malnourished Yanomami toddler in a ward dedicated to Indigenous people in the Santo Antônio children's hospital in Boa Vista, Roraima state, Brazil, on 27 January. Photograph: Michael Dantas/AFP/Getty Images
---
The influx of heavily armed gangs, now being tackled by President Lula, has had a catastrophic effect on infant health
he severely malnourished Yanomami baby girl is about eight months old but weighs just 2.75kg (6lbs) – less than half the average for her age. A catheter runs into her tiny right foot, delivering a blood transfusion doctors hope will save her life.
"This is a really difficult moment for us," says Francinete Rodrigues, the director of the Santo Antônio children's hospital in Boa Vista, an institution on the frontline of an Indigenous health catastrophe Brazil's president calls an attempted genocide.
The Amazon hospital is no stranger to crisis. For almost a decade its staff have been dealing with the fallout from the humanitarian collapse in neighbouring Venezuela, with thousands of migrants and refugees flocking here in search of treatment unavailable in their crumbling homeland.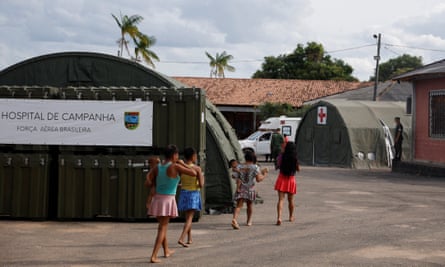 More recently, a second calamity has hit the hospital's casualty department, with a growing number of seriously ill Yanomami children being admitted because of the dire conditions in the Portugal-sized Indigenous territory where they live.
Forty-seven Indigenous children died at Santo Antônio last year, most before their first birthday. In 2021, there were 56 deaths. In 2020, 31. Activists say a total of at least 570 Yanomami children have died preventable deaths since 2018 thanks to a toxic cocktail of government neglect, local corruption and an onslaught from illegal mining gangs.
"When Indigenous children are brought to the hospital it's nearly always for more than one reason: malnutrition, dehydration, pneumonia, malaria – and sometimes they come with two, three or four of these ailments," Rodrigues said during a tour of the hospital's wing for Indigenous patients, where Yanomami families and their ailing offspring lie in hammocks designed to make the rainforest-dwellers feel at home.
On the day the Guardian visited, 56 Yanomami children were receiving treatment, two in intensive care. Two days earlier a seven-month-old Yanomami baby had died of pneumonia in that unit. Doctors hoped the skeletal girl being given a blood transfusion – a member of a Yanomami subgroup called the Sanumá – would avoid the same fate.
READ FULL ARTICLE:
---
REFERENCE:
---
By: Miss Cherry May Timbol – Independent Reporter
You can support my work directly on Patreon