Since his pullout in June, Trump has repeatedly reaffirmed the wisdom of pulling out of the "bad deal" for the U.S. that was Paris
Paris came to New York this week, with leaders of countries signing the 2015 Paris Climate Agreement coming to the United Nations to chide, nudge or beseech Donald Trump in hopes he would reverse his decision to scrap the agreement.
The U.K.'s Theresa May, France's Emmanuel Macron and Justin Trudeau, among others, could have saved their breath. Since his pullout in June, Trump has repeatedly reaffirmed the wisdom of pulling out of the "bad deal" for the U.S. that was Paris. All the evidence that has since come down only bolsters his case.
Shortly after Trump announced the pullout, stats from the Global Coal Plant Tracker portal confirmed that coal is on a tear, with 1600 plants planned or under construction in 62 countries. The champion of this coal-building binge is China, which boasts 11 of the world's 20 largest coal-plant developers, and which is building 700 of the 1600 new plants, many in foreign countries, including high-population countries such as Egypt and Pakistan that until now have burned little or no coal.
All told, the plants underway represent a phenomenal 43 per cent increase in coal-fired power capacity, making Trump's case that China and other Third World countries are eating the West's lunch, using climate change as a club to kneecap us with expensive power while enriching themselves.
The coal plants underway represent
a phenomenal 43 per cent increase in
coal fired power capacity
At the same time that growth in coal is soaring, that of renewables is sagging. As reported by Bloomberg New Energy Finance, renewables investment fell in 2016 by 18 per cent over the peak year of 2015, and nine per cent over 2014. In the first two quarters of 2017, the trend continued downward, with double-digit year-over-year declines in each of the first two quarters. Even that paints a falsely rosy picture, since the numbers were propped up by vanity projects, such as the showy solar plants built in Abu Dhabi and Dubai. In the U.K., renewable investment declined by 90 per cent.
None of the Bloomberg data represents hard economic data, however, since virtually all renewables facilities are built with funny money — government subsidies of various kinds. As those subsidies come off, a process that has begun, new investment will approach zero per cent, and the renewables industry will collapse. Even with Obama-sized subsidies, the clean-energy industry has seen massive bankruptcies, the largest among them in recent months being Europe's largest solar panel producer, SolarWorld, in May, and America's Suniva, in April.
If new data on the economics of renewables wasn't enough to bolster Trump's confidence in having made the right decision on Paris, new environmental data would. As reported in July in one of Trump's favourite conservative news sources, Daily Caller, solar panels create 300 times more toxic waste per kilowatt-hour than nuclear reactors — they are laden with lead, chromium, cadmium and other heavy metals damned by environmentalists; employ hazardous materials such as sulfuric acid and phosphine gas in their manufacture; and emit nitrogen trifluoride, a powerful greenhouse gas that is 17,200 times more potent than CO2 as a greenhouse gas over a 100-year time period.
As government subsidies come off,
new renewables investment
will approach zero per cent
A slew of failures by climate scientists also points to the unreliability of doom and gloom predictions. One recent admission comes from Oxford's Myles Allen, an author of a recent study in Nature Geoscience: "We haven't seen that rapid acceleration in warming after 2000 that we see in the models," he stated, saying that erroneous models produced results that "were on the hot side," leading to forecasts of warming and inundations of Pacific islands that aren't happening. Other eye-openers came in the discovery that the Pacific Ocean is cooling, the Arctic ice is expanding, the polar bears are thriving and temperatures did indeed stop climbing over 15 years.
None of these revelations, which came out after Trump's decision to withdraw from Paris, would have surprised him — Trump knew from the get-go that the global warming scare is all hype. As the Daily Caller and the Wall Street Journal both reported in April, Obama administration officials are admitting they faked scientific evidence to manipulate public opinion. "What you saw coming out of the press releases about climate data, climate analysis, was, I'd say, misleading, sometimes just wrong," former Energy Department Undersecretary Steven Koonin told the Journal, in explaining how spin was used, for example, to mislead the public into thinking hurricanes have become more frequent. "Everyone's got an agenda," conceded NASA's Gavin Schmidt when asked how the wild comments of his predecessor could be believed.
The evidence against Paris continues to mount. Paris remains dead.
…………………………..
From Liberty Nation
STUDY PROVES IPCC CLIMATE MODELS WRONG
A recent paper published in the esteemed scientific journal Nature Geoscience is creating quite a ruckus. The gist of the studyis that humanity may have a few more decades to deal with catastrophic climate change than previously thought.
One of the authors, a professor of international energy and climate change at University College London, Michael Grubb, said in an optimistic tone to The Times that "Pacific islands are less doomed than we thought[.]"
However, behind that confident facade is a grim recognition and confirmation that the Intergovernmental Panel on Climate Change (IPCC) models were running too hot in the last few decades. Consequently, the climate predictions must be cooled down.
In short, they admit they were wrong. More ..
………………………
Dr. Roy Spencer
Cracks in the Empire's Armor Appear
September 20th, 2017 by Roy W. Spencer, Ph. D.
Yesterday brought widespread news coverage of a new "study" published in Nature Geoscience which concludes that global warming has not been progressing as fast as expected, and that climate models might be a "little bit" wrong.
(That the "little bit" is a factor of 2 or 3 is a fine point upon which we won't quibble here.)
I'm still trying to process my feelings about how the two authors, Myles Allen and Michael Grubb, might have been allowed to wander so far off the Empire's (UN IPCC's) reservation.
My initial reaction to the news was captured by my wife: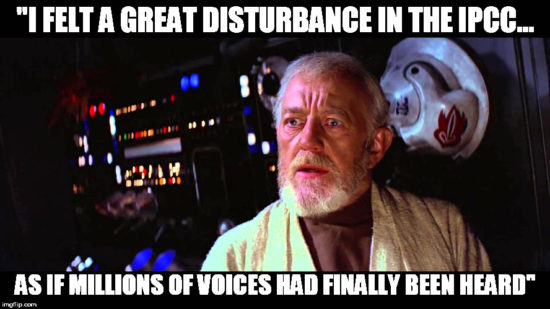 I've been thinking about what led to this turn of events. I've decided it was not some random realization by rogue elements of the Empire. It was not a tactical anomaly, but instead a strategic trial balloon of sorts.
Had John Christy or I tried to publish such a paper, Storm Troopers led by Darth Trenberth would have been quickly dispatched to put down the rebellion.
The realization by the authors that the climate models have produced too much warming since about 2000 has been out there for at least 5 years. It has been no secret, and Christy and I have been lambasted as "deniers" for repeatedly pointing it out.
The timing of the authors' realization of the same seems not very believable. Quoting from the Independent article,
According to The Times, another of the papers authors, Michael Grubb, a professor of international energy and climate change at University College London, admitted his earlier forecasting models had overplayed how temperatures would rise. At the Paris climate summit in 2015, Professor Grubb said: "All the evidence from the past 15 years leads me to conclude that actually delivering 1.5C is simply incompatible with democracy." But speaking to The Times he said: "When the facts change, I change my mind, as [John Maynard] Keynes said."
Now, I must ask, what did Grubb know, and when did he know it? What exactly has changed in the model forecasts since the Paris summit in December 2015?
Exactly nothing.
Allen and Grubb knew the models had a problem well before that.
I suspect there have been years of discussions in e-cigarette vapor-filled back rooms where Empire leaders have been discussing how the increasing disparity between models and observations should be handled. The resulting new paper is part of a grand scheme that Population Bomb author Paul Ehrlich perfected decades ago. I believe the new narrative taking shape is this: "yes, we were wrong, but only in the timing of the coming global warming disaster. It is still going to happen… but now we have time to fix it, before it really, really is too late."
I wonder if Allen and Grubb will also be called "deniers" for pointing out that the emperor's models have no clothes?
Only time will tell. For now, all I can say is, welcome to the dark side.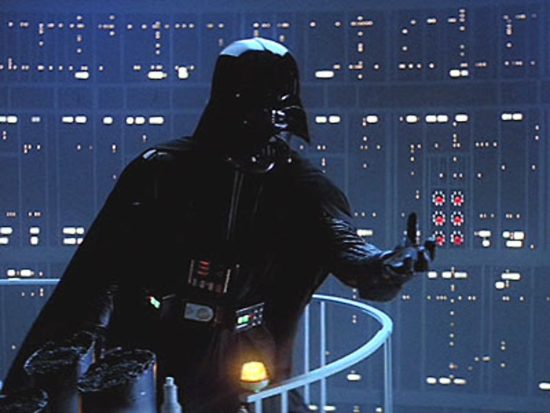 Since it is card-carrying members of the climate establishment saying the models are wrong, though, they will probably be hailed as visionaries.