Bullet wounds were found on his body which was discovered in the yard of an apartment block. Picture: Vg.ru
Dmitry Popkov, independent-minded editor of local paper Ton-M, may have been killed because of his 'professional activities' say investigators.
The 42 year old editor was known for his criticisms of the authorities in Minusinsk, a town with a 71,000 population some 440 kilometres (270 miles) south of regional capital Krasnoyarsk.
'The investigation is following various lines of enquiry regarding this killing, including that it may have been motivated by the victim's professional activities,' said a statement by investigators.
Bullet wounds were found on his body which was discovered in the yard of an apartment block.
While investigators are examining whether he was killed because of stories in his newspaper, other possible motives are also being examined.
Ton-M was founded by Popkov in 2014.
He earlier served on the Minusinsk city council before being stripped of his seat.
More from Siberia
Siberian 'werewolf' serial killer confesses to murdering 59 more women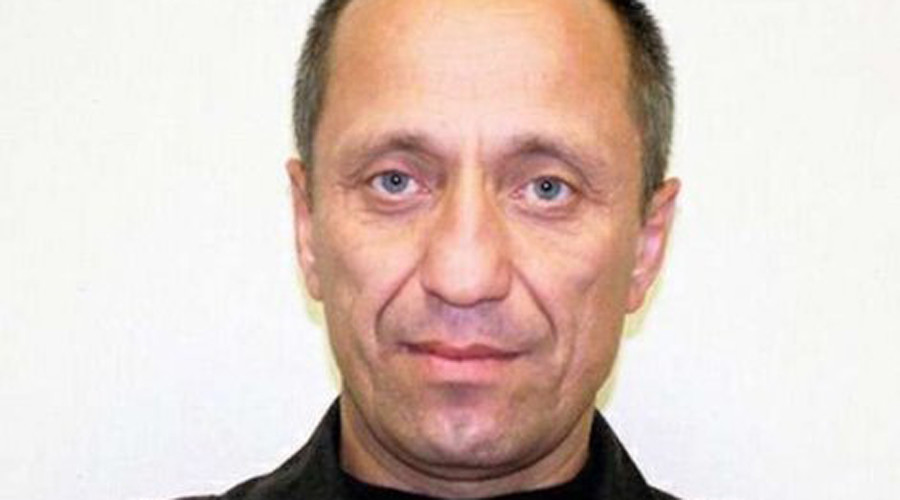 © Wikipedia
A former policeman-turned-serial killer from the East Siberian city of Angarsk, Mikhail Popkov, has confessed to killing at least 59 more women, two years after he was given a life sentence for 22 murders, the city's Investigative Committee said.
Popkov has for now been charged with 47 of the new murders he has confessed to, Angarsk Investigative Committee told RIA Novosti.
The total number of his victims may now go to as high as 81, putting the 52-year-old first on the Russia's serial killers list, ahead of the notorious Andrey Chikatilo, who was executed in 1994 for killing at least 52 people.
According to conflicting reports, Popkov committed the murders in the period from 1994 to the early 2000s or alternatively to 2012, until the very moment he was arrested. Popkov quit the police in 1998, reportedly surprising his colleagues at the time, as he had career prospects. It was later revealed that he even assisted several investigations of his own murders.
Ангарский маньяк Попков признался в 60 убийствах женщинhttps://t.co/e44TI3I5EM pic.twitter.com/MWSp7gxZR4

— Сайт IRK.ru (@tvoyirkutsk) January 10, 2017
Popkov's victims, with the youngest being only 15 years old, were from Angarsk, where he lived with his wife and daughter.
The dead bodies were found in the woods, at the local cemetery or along the roads. Most of the bodies were naked and, according to a forensic report, the women were raped before they were killed. Popkov reportedly claimed erectile dysfunction caused him to eventually stop his murder spree.
The killer used axes, knives, awls, screwdrivers and slipknots as murder weapons. The victims were first knocked out and then typically raped and disfigured. One of the women had her heart carved out.
Only two of the victims are known to have survived the killer's attacks with serious injuries.
Generally, the victims were on their way home from a bar or a restaurant and Popkov, who was behind the wheel of his car, offered to give them a lift. On several occasions, he even used his police car. Despite usually choosing his off-duty days for murders, Popkov purposefully wore police uniform. This helped investigators eventually come to the conclusion that they should look for the killer among local law enforcement officers.
Popkov later confessed that he started killing women after he became convinced that wife had cheated on him with another man.
A special group of investigators was created to try and catch the serial killer in 1998, but the original investigation was ineffective and was reformed in 2000. The stalled case was reopened in 2012, and the new study of the DNA samples finally led to Popkov's arrest, but not before hundreds of sperm samples collected from police officers were analyzed.
Popkov was detained in June 2012 in Vladivostok, planning to run off to China. During an interrogation, he gave a saliva sample that proved that he was the murderer. He pleaded guilty in 2015 and was sentence to life imprisonment.
Some of the reports speculate that Popkov began giving information concerning other murders in an effort to stay in a pretrial detention center in the city of Irkutsk he is being kept in now. But for the new confessions, he would have already been transferred to a high-security prison, where the living conditions are said to be much harsher.
From 2015 (Moscow)
Moscow serial killers targeted homeless drunks to 'cleanse' capital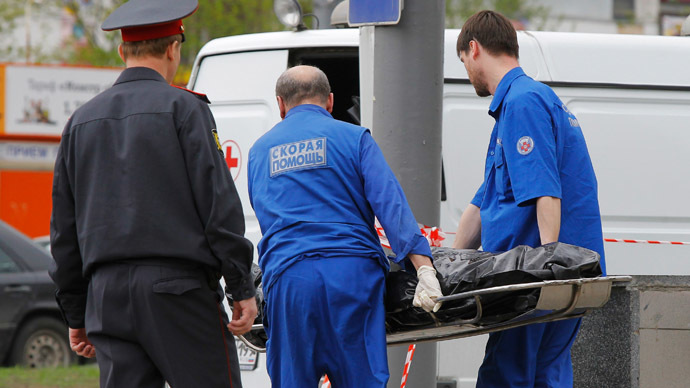 A suspected couple of serial killers have been arrested in Moscow, investigators reported. They are believed to have killed at least seven people in a crusade to 'cleanse' the city of its homeless population.
The killings were committed between July 2014 and February 2015, Russia's Investigative Committee said in a statement. The suspects, a 20-year-old man and a 25-year-old woman, targeted "homeless people with alcohol addiction." The man said he wanted to 'clean' the city.
Lifenews tabloid website said the list of the duo's victims may be longer. According to its report, the suspects, named Pavel and Elena, have stabbed and beaten to death 12 people.
The first of them, identified by Lifenews as 35-year-old Stanislav Evseev, had 107 stab wounds to his body, according to his father. Ironically, the victim was not homeless, but rather passed out on a park bench after drinking too much beer with his friend.
The evidence in the other killings pointed to the same MO – dozens of stabs delivered to helpless victims, the tabloid said.
The alleged killers were reportedly caught after failing to finish off their last intended victim on Sunday last week. The man, who works as a street cleaner, fended off the attackers with a screwdriver.
Despite suffering from several knife wounds, he managed to get home and call for help. The man, who was taken to hospital and is currently in an intensive care unit, gave police a description of the two assailants, which lead to their arrest, Lifenews said.
The police reportedly investigated the possible involvement of two other accomplices in the killing spree.
---