Hosting Provider Microsoft has given Twitter alternative "Gab" 48 hours to take action against two of its user posts or to be pulled from its service, according to a tweet from Gab.
"Big Tech, stop trying to control what people are allowed to read on the Internet," tweeted Preston Byrne, an Adam Smith Institute Fellow in response to Microsoft coming down on Gab for its user posts.
The possible removal from the Microsoft (Azure) hosting service could be highly damaging for the young social media company. Gab could go down for weeks or even months. The possible removal issue arose after a complaint was sent to Microsoft claiming that two user posts violated Microsoft's Acceptable Use Policy.
Microsoft claimed that two posts on the site contained "Phishing URLs" — fraudulent links that were meant to steal sensitive info from web users — and promptly ordered Gab to take action against these posts. Microsoft then threatened the company with possible termination from the hosting service unless they resolved the policy violation within 48 hours.
Gab responded to Microsoft's complaint soon after in a statement that questioned why the complaint was made in the first place. The Statement said that the company reviewed the offending posts and determined that there were no phishing links in the posts as Microsoft's complaint suggested. The statement went on to question Microsoft if this complaint was a "mistake" and stated that the user in question has already voluntary deleted his posts.
"Centralized control of internet infrastructure is the biggest threat to individual freedom online," Gab Founder Andrew Torba said, according to NBC reporter Scott Budman.
Gab has branded itself as the free-speech alternative to Twitter, a new type of social media company that is free from censorship and advertisements. It has been widely criticized by left-leaning outlets like the Guardian and Mic for being a platform for those with distasteful or bigoted views.
While most of its top users tend to be from conservative or right-wing spheres, the platform itself is open to users with all views. The company's staunch defense of free speech principles has not just attracted controversy from the left but also the ire of Big Tech companies with increasingly restrictive terms-of-service policies.
Last year, Gab almost lost its domain registrar because of posts on its platform that violated the provider's policy on hate speech, reports The Verge.
While Gab's free speech policy may make it vulnerable to bad faith users who use the platform to dox and harass others, the policy has a huge advantage. Gab's championing of the first amendment has attracted thousands of users who are tired of being censored on other social media. According to Torba, 16,000 new users have joined the platform following Infowars host Alex Jones's decision to live stream on Gab, reports BreitBart.
"We will keep fighting and building to ensure a future for free expression and individual liberty online for everyone," Gab Founder Andrew Torba said, according to Scott Budman.
'WE NEED MORE BANNING': WEEKLY STANDARD CALLS FOR MORE BIG TECH CENSORSHIP IN WAKE OF ALEX JONES PURGE
"I'm not even trolling when I say that we need more banning."
The neoconservative Weekly Standard said Wednesday that Big Tech should ban more people and there's "no reason" conservatives should be defending Alex Jones.
"I'm not even trolling when I say that we need more banning," Jonathan Last said Wednesday on Twitter, linking to his column, "The Case For Banning Alex Jones."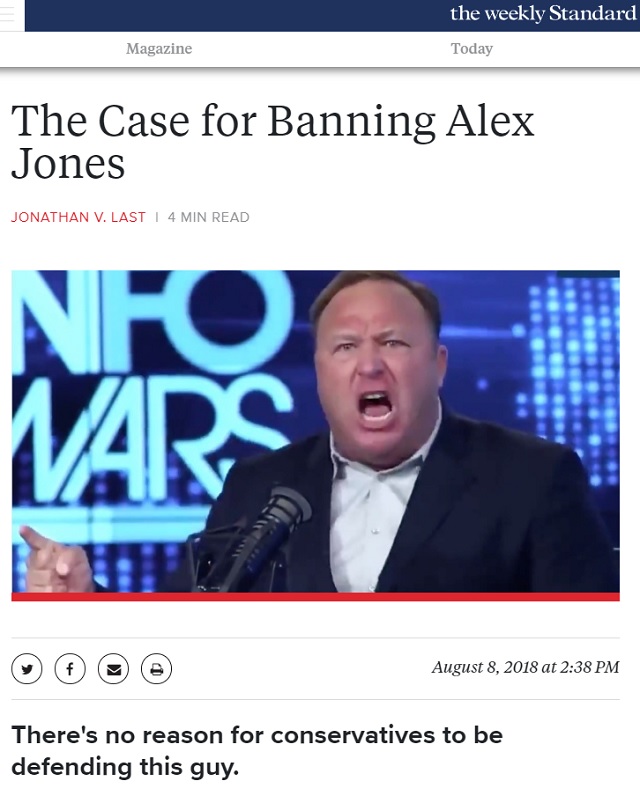 "In every online community where mods enforce reasonable standards of discourse, the community is better for it," Last said.
1) I'm not even trolling when I say that we need more banning. In every online community where mods enforce reasonable standards of discourse, the community is better for it. https://t.co/abbUPAf9f3

— Jonathan V. Last (@JVLast) August 8, 2018
Bill Kristol himself also tweeted out the article, adding, "Goodbye, Alex, and good riddance."
Goodbye, Alex, and good riddance. @JVLast⁩ pulls no punches. https://t.co/SksrZtTcya

— Bill Kristol (@BillKristol) August 8, 2018
Last said in his column that Alex Jones has "no First Amendment case" because he's being banned by "privately owned companies" and he's merely "being denied access based on his behavior and actions, not who or what he is."