Harvey, now a tropical storm, continues to batter southeast Texas as rescue crews work to save those trapped by catastrophic flooding.
The extreme flooding was captured in a before and after image tweeted by Matt Reagan via street reporter.
Unbelievable Before & After of the flooding on Buffalo Bayou in #Houston from #Harvey. (Via streetreporter on Youtube) pic.twitter.com/a6FXIh0rtq

— Matt Reagan (@ReaganMatt) August 27, 2017
The National Weather Service called the flooding "unprecedented" and "beyond anything experienced."
This event is unprecedented & all impacts are unknown & beyond anything experienced. Follow orders from officials to ensure safety. #Harvey pic.twitter.com/IjpWLey1h8

— NWS (@NWS) August 27, 2017
The storm has killed at least five people in Texas and authorities expect that number to rise.
The city is being inundated with cries for help, to the point where some 911 calls are going unanswered, according to Houston Mayor Sylvester Turner.
While the city is preparing for almost 50 inches of rain in the coming days, Federal Emergency Management Agency Director Brock Long said he expects FEMA to be there for "years."
…………………………………
REPORT: 'Harvey's' Death Toll Reaches 6 – Massive Flood Event Begins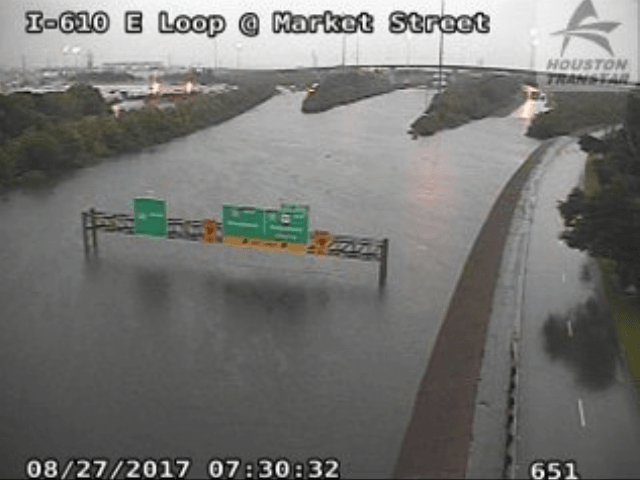 HOUSTON, Texas — The storm known as "Harvey" claimed the lives of five people in the Houston area according to local news reports. This raised the total number killed from the Hurricane Harvey storm to six. A Texas woman became "Harvey's" second victim after massive flood waters washed her away from her stalled car.
Harris County Sheriff Ed Gonzalez Tweeted an unconfirmed report of the deaths of a woman and a child in a submerged vehicle on Interstate 10 at Lathrop.
Reports of several submerged vehicles on I-10 at Lathrop, one vehicle possibly has deceased female and child (unconfirmed) #Harvey

— Ed Gonzalez (@SheriffEd_HCSO) August 27, 2017
The National Weather service reported an unconfirmed report of five deaths in the Houston area overnight, the Weather Channel stated. Officials carried out more than 1,000 water rescues across the Houston area.
Since its arrival on the Texas coast, now-Tropical Storm Harvey dropped more than 24 inches of rain in the Houston area and some of the surrounding counties.
The Clear Creek rain gage reported 24.12 inches of rain in the past 24 hours, according to Harris County Flood Warning System reports. Nearly 11 inches of that fell in a two-hour period around midnight. Weather stations all across Harris County reported rainfall totals of between 10 and 14 inches for the past 24 hours.
Late Saturday evening, a Houston woman died after she drove her car into high water. Neighbors discovered her body about 30 yards from her car, Houston Emergency Management Center spokesman Gary Norman told Fox 26 Houston. A doctor who happened to be in the area, pronounced the woman dead at the scene. She became the second victim of the storm known as "Harvey."
Two hundred and twenty miles to the south, Aransas County Judge Burt Mills said a local resident died Friday night in a house fire that firefighters were not able to respond to because of then-Cat 4 Hurricane Harvey's devastating winds, Breitbart Texas reported. The winds, in excess of 110 mph, made conditions too dangerous for emergency crews to come out of their shelter.
Governor Greg Abbott reported that around 300,000 Texans were without power and Tropical Storm Harvey parked itself between Corpus Christ and San Antonio near the town of Cuero. The center of the storm wobbled around this location for most of the past 24 hours extending devastating rain bands nearly 200 miles to its northwest.
Numerous tornados have been spawned from the torrential rain storms. The National Weather Service issued nearly 100 tornado warnings in the Houston area on Saturday and multiple tornados struck Harris County leaving destroyed businesses and damaged homes in their wake.
As of the early morning hours of Sunday morning, Harvey is moving back to the Texas coast at about 1 mph. The storm is expected to remain in this area for at least the next 24 to 48 hours, National Hurricane Center officials reported. The storm is still producing tropical storm-force sustained winds of at least 45 mph. From this location, the storm is pumping massive amounts of moisture in from the Gulf of Mexico and dumping it along the flat region extending from Palacios to the Houston Area and points north and east. The heaviest rains are currently falling between Houston and Beaumont.
Weather officials state that Harvey will produce an additional 15 to 25 inches of rainfall over the middle and upper Texas coast before it leaves the area. The storm is expected to be locked in place with little movement through Wednesday or Thursday.
With massive area-wide power outages, flooding, and devastating wind damage, predictions by the National Hurricane Center that parts of Texas could become uninhabitable for weeks or months appear to be accurate.
…………………………….
Full coverage at Breitbart: http://www.breitbart.com/tag/hurricane-harvey/
……………………………..
God bless our troops ❤️

3,000 Guard troops activated as 'unprecedented' flooding swamps Houston…https://t.co/HeThwMPzCF via @USATODAY

— Hey Jude (@gr8tjude) August 27, 2017
Texas road bridge collapses amid drenching rains from Hurricane Harvey
A Texas road bridge has collapsed after being inundated by waters brought on by drenching rains from hurricane Harvey. The collapse happened on Farm to Market Road No. 762 in Rosenberg, a city southwest of Houston. Police cordoned off the road to keep traffic off the fallen bridge.
HISTORIC rainfall in Houston, and all over Texas. Floods are unprecedented, and more rain coming. Spirit of the people is incredible.Thanks!

— Donald J. Trump (@realDonaldTrump) August 27, 2017