Well, looks like we have another interesting turn of events in regards to the "Russian witch-hunt."
Seems that the alleged Russian agent who liberals attempted to "tie" to President Trump, by incorrectly stating she was in a recent photo taken inside the Oval Office (it was just some red-headed aide), is actually tied to Obama.
Shocked?
No, we didn't think you would be.
From Washington Examiner
Alleged Russian agent Maria Butina met with Treasury Department and Federal Reserve officials in 2015, according to a report Sunday.
Butina and Alexander Torshin, then the Russian Central Bank deputy governor, participated in separate meetings with Stanley Fischer, Fed vice chairman at the time, and Nathan Sheets, then-Treasury undersecretary for international affairs, Reuters reports.
The purpose of the meetings was to discuss U.S.-Russian economic relations during Democratic former President Barack Obama's administration. The Center for the National Interest, a Washington foreign policy think tank that advocates pro-Russia views, organized the meetings.
Federal prosecutors charged Butina, 29, this week for conspiracy against the U.S. and acting as an unregistered foreign agent of the Russian government. Prosecutors alleged she was connected to high-profile members of the National Rifle Association, and was in regular contact with the FSB, the Russian intelligence agency that replaced the Soviet-era KGB.
They also alleged Butina attempted to offer sex in exchange for a position with a special interest political organization she targeted during her time in the U.S., when she was working for Torshin, who has close ties to Russian President Vladimir Putin.
She has pleaded not guilty to all charges.
…
Lavrov to Pompeo: Free Maria Butina arrested on fabricated spy charges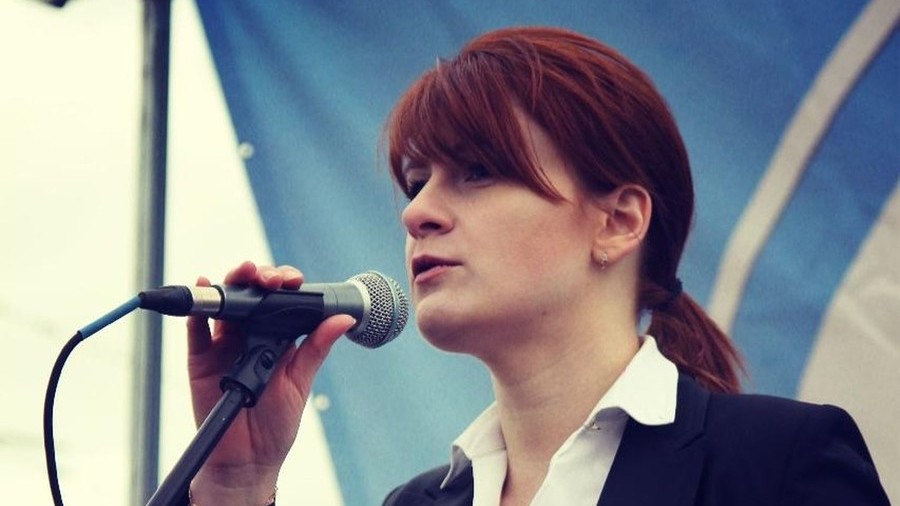 FILE PHOTO © mvbutina/ facebook.com / Global Look Press
The US should immediately release Russian gun activist Maria Butina, who is being held in the US on espionage charges, Russian Foreign Minister Sergey Lavrov told his US counterpart over the phone, calling the case "fabricated."
"Lavrov stressed that the actions of the US authorities that arrested Russian citizen [Maria] Butina on fabricated charges are unacceptable," the Russian Foreign Ministry said in a statement, adding that the minister also called for her "immediate release" in his conversation with US Secretary of State Mike Pompeo on Saturday.
The Foreign minister raised the issue during phone conversations that were made at the request of the US and aimed at "further normalization of the US-Russian relations" following the summit between the US President Donald Trump and Russia's Vladimir Putin in Helsinki. Lavrov and Pompeo also discussed the process of denuclearizing the Korean Peninsula, as well as the situation in Syria.
The 29-year-old Russian student and a gun activist was arrested in the US about a week ago and charged with acting as a foreign agent without registering her activities with the authorities. Butina has pleaded not guilty to the charges.
On July 16, a DC Federal Court rejected Butina's bail plea and ordered her to be placed in custody pending trial over fears that she could flee or contact Russian intelligence officials. Her lawyer says the trial is being politicized and Russian embassy staff were only allowed to visit her in jail on Thursday.
The Russian Foreign Ministry has called Butina's arrest politically motivated, adding that it could have been aimed at disrupting the Helsinki summit between Putin and Trump. On Thursday, the ministry also launched a campaign hashtagged #FreeMariaButina on Twitter to raise awareness of her case.
…