With Treasury Secretary Steve Mnuchin standing behind him, U.S. President Donald Trump smiles while listening to remarks before signing an executive order making it easier for Americans to buy bare-bones health insurance plans and circumvent Obamacare rules at the White House in Washington, U.S., October 12, 2017. REUTERS/Kevin Lamarque
President Donald Trump has surgically dismantled Obamacare over the course of his first year in office, largely under the noses of the American public, as Democrats and members of his party that have spent the last nine months trying to upend the American health care system.
Over the course of his first nine months in office, he rolled back funding for a program intended to help individuals navigate the insurance marketplace, signed an executive order to allow for groups to purchase insurance across state lines and stopped federal funding for Obamacare subsidies.
Taken in tandem, it appears the administration is working to overhaul the American health care system without the help of Congress, a body that has failed a handful of times to repeal and replace Obamacare during the first months of Trump's presidency.
Each of these actions has a significant impact on the viability of the current health care system.
Obamacare Subsidies
The Trump administration announced late Thursday evening that it will no longer fund a crucial feature of Obamacare that helps low-income Americans purchase health insurance on the Affordable Care Act state exchanges, known as cost-sharing reductions.
"The bailout of insurance companies through these unlawful payments is yet another example of how the previous administration abused taxpayer dollars and skirted the law to prop up a broken system," the White House said in a statement. "Congress needs to repeal and replace the disastrous Obamacare law and provide real relief to the American people."
Under the leadership of former Speaker John Boehner, the House filed suit against the Obama administration in 2014, claiming it was illegally reimbursing marketplace insurers for CSRs.
Obamacare subsidies were instituted to help low- and moderate-income individuals who participate in the exchanges. To make consumers put more "skin in the game," Obamacare effectively raised deductibles to levels that are tough for many Americans to meet without some financial support. CSRs were put in place to help compensate insurance companies for coinsurance, co-pays and deductibles that low-income consumers could not otherwise pay out on their own.
Boehner, along with House leadership, felt that CSRs required an annual appropriation approved by Congress. The House argued that because Congress had never explicitly appropriated the funds for those payments, the administration's actions were unconstitutional. After nearly two years of deliberation, Senior Judge of the U.S. District Court for the District of Columbia Rosemary M. Collyer concluded the House's claim had legal standing and allowed the case move forward on May 12, 2016.
Over the course of the past 16 months, the Obama and Trump administrations have kicked the court hearing back. For those that side with Republicans, a troubling result of the appeal and numerous delays is that CSRs are still funded as they were when the Obama administration first appealed. Trump's move Thursday essentially ends the debate, unless Congress chooses to act.
One of the glaring problems with abruptly stopping CSR payments is that it will likely lead to skyrocketing premiums for Obamacare enrollees. Roughly half of the consumers who purchase health insurance through Obamacare qualify for cost-sharing reductions
Consumers are already facing double-digit premiums under Obamacare, but stopping the subsidies for insurance companies means the costs that insurers are not getting covered from the government will get transferred to the consumer.
When insurance providers signaled they would drop out of the Obamacare market altogether in 2017, one of their primary concerns was whether or not Trump would continue paying out these subsidies.
The federal government was slated to pay out around $7 billion in CSRs in 2017. Obamacare consumers saw their out-of-pocket costs lower by over $1,000 through these subsidies.
Congress could still act on the 2014 lawsuit and stymie Trump's move. If they do not, Obamacare customers are likely to see their premiums and out-of-pocket costs soar in the future.
Obamacare Navigator Funding
The Trump administration has argued that many of the Obamacare programs are merely a superluous use of time and resources, including the navigator program. As such, the administration announced in September that it would cut some of the navigator program's funding by as much as 90 percent.
Obamacare navigators are individuals that help consumers and businesses seek and obtain health insurance plans that meet their specific needs. They also provide outreach and educational assistance surrounding the health care marketplace.
Over 70 percent of regional programs and 55 percent of statewide navigators anticipate rolling back programs in rural areas because of the administration's funding cuts, Kaiser Family Foundation reports. The overwhelming majority, or 89 percent, of navigators expect having to fire staff because of the cuts.
Cuts to navigators are important in that the Obamacare marketplace can be difficult to navigate, even for an experienced consumer.
The majority of navigators, despite the cuts, plan on participating in the market in 2018.
Executive Order
Trump signed an executive order Thursday that charged a number of federal agencies with finding ways to expand access to health insurance plans that are outside of Obamacare regulations. The order relaxes the rules and regulations surrounding association health plans — groups of small businesses (and possibly individuals) that join together to purchase insurance. The order would also allow these groups to purchase insurance across state lines.
"With these actions … We are moving toward lower costs and more options in the health care market, and taking crucial steps toward saving the American people from the nightmare of Obamacare," the president said Thursday.
"This will direct [agencies] to take action to increase competition, increase choice, and increase access to lower-cost, high-quality health-care options," Trump added. "This will cost the United States virtually nothing, and people will have great, great health care."
…………………….
President Trump Signs HISTORIC Healthcare Executive Order 10/12/17
………………………………
Obama colluded with the big insurance companies. Trump is breaking up the party https://t.co/q1ltUxAJVn

— Dinesh D'Souza (@DineshDSouza) October 13, 2017
…………………………..
John Kelly CONFRONTED on Trump's White house CHAOS, Healthcare,puerto rico,nbc news
White House press secretary Sarah Huckabee sanders held a press briefing today with Chief of Staff John Kelly were he answer questions by NBC News reporter and CNN Jim Acosta and others on President Trump's frustration with the media like NBC News and CNN and his control on Trump's tweets 10/12/2017
#DrainTheSwamp– Left Wingnut Media, GOP Elites, Big Business despise all the success of @POTUS. #Dobbs #MAGA #TrumpTrain pic.twitter.com/93BKfqDqhA

— Lou Dobbs (@LouDobbs) October 13, 2017
CNN's Paris Dennard: Media Will Not Focus on 'The Real Positive Things Going On' Under Trump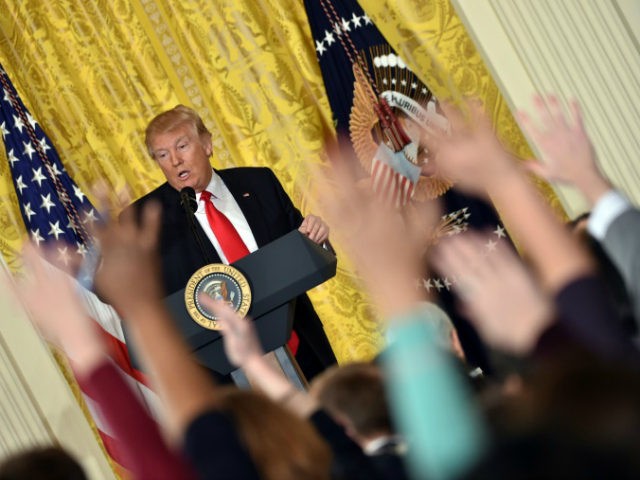 CNN contributor Paris Dennard spoke with Breitbart News DailySiriusXM host Alex Marlow on Thursday regarding the media, Mike Pence, the ongoing NFL national anthem protests, and the White House's computer science initiative.
Dennard said, "The mainstream media wants to only focus on this manufactured NFL controversy as relates to the president and somehow say he's racist. Here we go again–somehow saying that he is anti-black. Here we go again. This is what they do."
Dennard continued, "They don't want to focus on the real positive things that are going on, things that benefit Americans, like tax reform or the computer science initiative. These are real things that are going on during the same time frame that they choose not to focus on."
He concluded by saying, "It's hypocrisy at best."
Breitbart News Daily airs on SiriusXM Patriot 125