Women of Muslim community wait for the arrival of Turkish President Tayyip Erdogan, near a mosque in the city of Komotini, Greece © Alexandros Avramidis / Reuters
The Greek parliament has overwhelmingly voted to limit the power of Sharia courts among the Muslim minority, seeking greater equality for all citizens. They were introduced a century ago in an agreement with Turkey after WWI.
On Tuesday, Greek MPs passed a new law under which the Muslim minority would no longer be bound by Sharia law. Under the old system, family disputes over inheritance, divorce and child custody would be settled by muftis and Islamic law scholars. But this parallel legal system has been accused of sexism and discrimination against women.
"The government today is taking an historic step by bringing to Parliament the bill on Sharia which widens and deepens legal and civil equality enjoyed by all Greek men and women without exception," Prime Minister Alexis Tsipras said in a written statement.
"Respecting in every way the unique characteristics of the Muslim minority in Thrace, the government, with the bill, rectifies past injustices against its members."
The bill gives priority to Greek courts, and was supported by all major parties except the far-right Golden Dawn, which said it wasn't clear what powers the Islamic courts would still maintain.
The revision of the law comes after a legal case brought by one Hatijah Molla Salli, a widow from the city of Komotini in Thrace, eastern Greece. Salli was fighting an inheritance dispute with her late husband's sisters and won the initial case, but in 2013 the Greek Supreme Court ruled that the century-old agreement with Turkey takes precedent. Salli then filed a complaint with the European Court of Human Rights (ECHR), which is expected to weigh in on the topic later this year.
After the First World War and the collapse of the Ottoman Empire, the Greek and Turkish governments carried out a population exchange in 1923 in which millions of Muslim and Orthodox Christian people were moved between the two countries. Under the deal, the remaining Muslims in Greece would be placed under Islamic customs and law.
Today there are more than 110,000 Greek Muslims, according to various estimates, mostly concentrated in the eastern region of Thrace near the Turkish border. The situation of Greek Muslims is closely watched by the Turkish government, which considers them Turks, although the community also includes Roma and the Bulgarian-speaking Pomaks. During his visit to Athens in December, Turkish President Recep Tayyip Erdogan accused Greece of not respecting its Muslim citizens.
Greece is one of the few European countries which recognize some aspects of Islamic law alongside its own secular legal system. In the UK, a number of Sharia tribunals operate under the Arbitration Act which allows them to resolve legal disputes as long as this doesn't conflict with British law.
…………………………..
Official Turkish body said it was OK for girls to marry at 9, claims it was only following Islam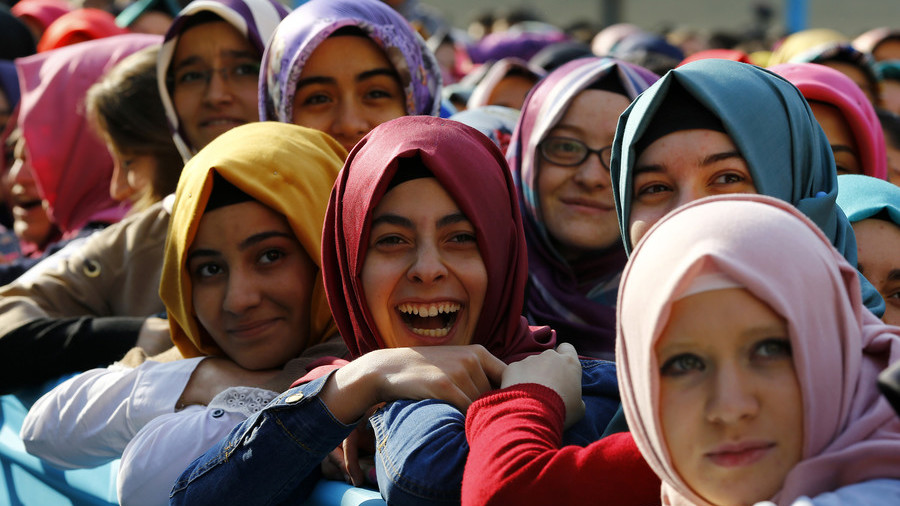 Turkish schoolchildren in Ankara / Reuters / Umit Bektas
Turkey's opposition have demanded a parliamentary investigation into the Directorate of Religious Affairs, an influential government department, after it proclaimed that Islamic Law approved of boys marrying at 12 and girls at 9.
In an online religious glossary intended for the public released earlier this week, Diyanet, as the body is known, stated that these are the earliest ages for children to reach adolescence, and once the threshold of emotional and physical maturity is crossed, they must be allowed to marry "to save themselves from adultery."
The statement ignited an immediate firestorm of opposition from politicians, women's rights activists, and secularists.
"The Turkish Civil Code clearly states that adulthood begins at the age of 18. Early marriages violate children's rights, women's rights, human rights. As CHP MPs we ask parliament to investigate child marriages," said Murat Bakan, a deputy from the main opposition party on Twitter.
Trabzon'da kadınlar Diyanet İşleri Başkanlığı'nın kadın ve çocuk düşmanı açıklamalarına karşı basın açıklaması gerçekleştirdi. Açıklamayı geri çekmeniz, Dini Terimler Sözlüğünü kapatmanız yetmez!
Tecavüzü, çocuk evliliklerinizi meşrulaştıran zihniyetinizi yok edeceğiz! pic.twitter.com/iNuHQ7VkOu

— KTÜ Kadın Kolektifi (@ktu_ukk) January 4, 2018
In the city of Trabzon, female protesters staged a demonstration holding placards reading, "Stop exploitation of children!"while in Izmir, the banners proclaimed, "Child marriage is a crime."
The legal marriage age in Turkey is 18, with exceptions for 17-year-olds with parental consent, and 16 year-olds with a court-issued permit.
Diyanet has taken down its original entry, clarifying that it "had never approved child marriages and never will" and insisting it was merely interpreting Islamic scriptures. It also emphasized that "consent" was a necessary condition of any union.
But the outrage, which has included calls and a Twitter hashtag campaign for Diyanet to be shut down, highlights the long-running controversies of underage marriage and Islamization in Turkey.
An academic study last year, estimated that as many as one in three Turkish marriages involve a partner who is under 18. The vast majority of the children involved are women, who are disproportionately likely to be poor, illiterate, living in rural areas, and later subjected to abuse and exploitation.
There is concern that in conjunction with November's mufti law – in which the ruling Islamist AKP party allowed sanctioned clerics, rather than state officials, to register marriages – will legitimize traditional child bride unions, reversing decades of progress.
Meanwhile, Diyanet, which was once a secular watchdog that oversaw restrictions on religious proselytizing, has, according to its critics, morphed into a powerful propaganda tool for the Islamist government.
Its budget has ballooned under former PM and current President Recep Tayyip Erdogan. It has attracted scorn for its published rulings, including a (later withdrawn) fatwa that stated a father can desire his daughter, and another, that said it was sufficient for a man to "see his wife as his mother or sister" to divorce her.