We were hoping for the best, but now should be prepared for the worst.
According to a breaking report from Zerohedge, Irma is already flattening what are supposed to be the most solid buildings in the Caribbean.
Luckily, Floridians know Irma is coming and have days to prepare for it to hit.
As always, our hopes and prayers are with all those who have been and will be affected.
From Zerohedge
Hurricane Irma, the most powerful Atlantic storm on record according to the NHC, raced across northern Caribbean islands on Wednesday with a "catastrophic mix of fierce winds, surf and rain", ahead of what appears a virtually guaranteed Florida landfall at the weekend. While Irma precise trajectory remained uncertain, the latest NHC forecast sees the cone coming right on top fo the panhandle.
Irma is the kind of storm where you get thousands of lives lost. This is not going to be the big slow-motion flood like Harvey – this is a real, honest-to-God hurricane.

       – Chuck Watson, disaster modeler with Enki Research
The eye of Irma, a Category 5 storm packing winds of 185 miles per hour (295 km per hour), moved away from the island of Barbuda and toward the island of St. Martin, east of Puerto Rico, early on Wednesday, the U.S. National Hurricane Center (NHC) in Miami reported. It could hit Florida on Saturday. It is expected to bring strong storm surges and up to 20 inches of rain in some places.
"We are hunkered down and it is very windy … the wind is a major threat," said Garfield Burford, the director of news at ABS TV and Radio on the island of Antigua, south of Barbuda. "So far, some roofs have been blown off" he added according to Reuters.  Most people who were on Antigua and Barbuda were without power and about 1,000 people were spending the night in shelters in Antigua, according to Burford. "It's very scary … most of the islands are dark so it's a very, very frightening," he said.
The eye of the storm passed over St. Martin and its northern wall was pounding Anguilla, the U.S. National Hurricane Center said in an advisory around 8 a.m. New York time. It's on a path that should pass near or just north of Puerto Rico later Wednesday, it said.
[IRMA] Saint Martin dans le mur de l'oeil subit les effets de l'ouragan IRMA #iram #ouragan #SaintMartin (Source : Rinsy Xieng) pic.twitter.com/e2j7e9KtOu

— RCI Guadeloupe (@RCI_GP) September 6, 2017
BREAKING: Saint Martin has drowned.#Irma #StMartin pic.twitter.com/7af5sV1NSu

— BNL (@BreakingNLive) September 6, 2017
…………………………
Gov Rick Scott Urges Residents to Prepare as Hurricane Irma Threatens Florida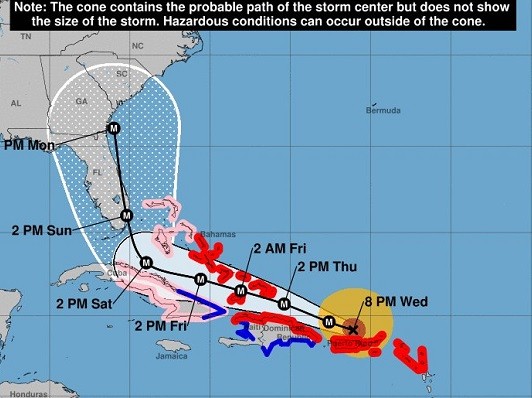 TALLAHASSEE, Florida — As Hurricane Irma continues its trek through the Caribbean, Floridians prepare for storm's uncertain landfall,
**UPDATES BELOW**
UPDATE 1:30 a.m. ET: At least seven have died according to a report from the BBC. Barbuda said to be "barely habitable" and the death toll is "likely to rise"…
From BBC News:
Hurricane Irma has caused widespread destruction across the Caribbean, reducing buildings to rubble and leaving at least seven people dead.

The small island of Barbuda is said to be "barely habitable" while officials warn that the French territory of St Martin is almost destroyed.

With the scale of the damage still emerging the death toll is likely to rise.
UPDATE 12:30 a.m. ET Thursday:  According to the Associated Press, Hurricane Irma is responsible for blacking out in much of Puerto Rico.
Hurricane Irma blacks out Puerto Rico, heads for Hispaniola. https://t.co/lr71Tjrmfl

— The Associated Press (@AP) September 7, 2017
NBC News reports an estimated 1 million without power.
Hurricane Irma knocks out power to more than 1 million in Puerto Rico, about a third of the island's population https://t.co/PhDmW2OVxx pic.twitter.com/EMxXIHjhSc

— NBC News (@NBCNews) September 7, 2017
UPDATE 11 p.m. ET: The National Hurricane Center's latest advisory has the storm located at 19.1°N 66.1°W, moving west at 16 mph, 315 miles east of Grand Turk Island.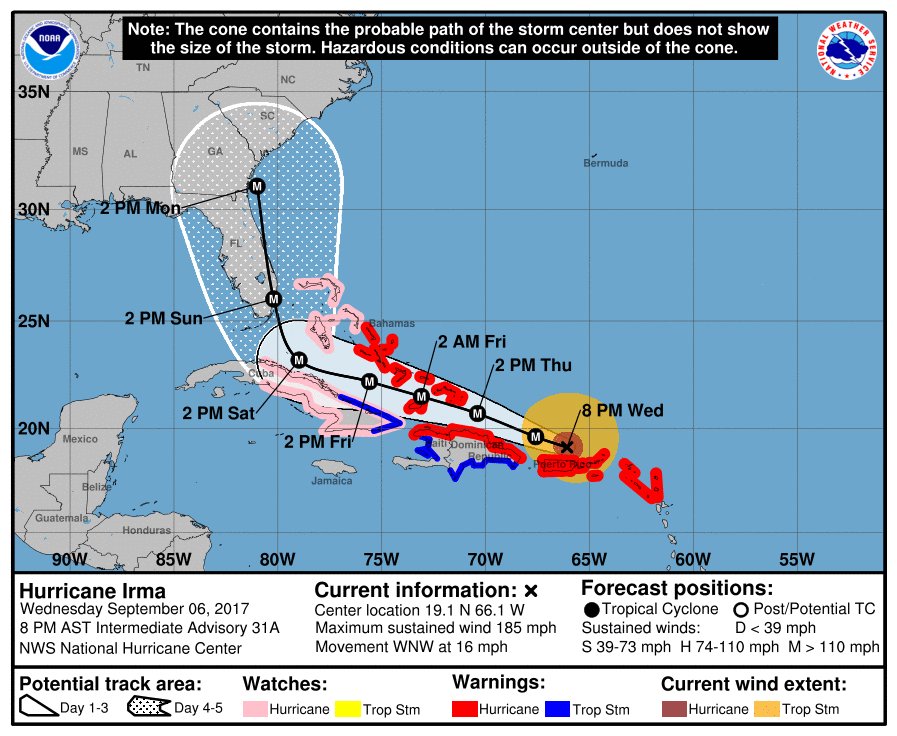 UPDATE 10:30 p.m. ET: Traffic is backed up on I-75 near Ocala, FL, which is 300 miles north of Miami (where the storm is expected to make landfall).
UPDATE 9:55 p.m. ET: Per Gov. Rick Scott, the Environmental Protection Agency approved an "emergency fuel waiver" to allow more fuel into the state in preparation for Hurricane Irma.
.@EPA has approved an emergency fuel waiver, allowing more fuel to enter FL quickly for #HurricaneIrma prep: https://t.co/LTkcwBjwUh

— Rick Scott (@FLGovScott) September 7, 2017
UPDATE 9:30 p.m. ET: Miami Beach, FL now under a mandatory evacuation order.
Message from @MayorLevine & @CityManagerMB regarding #HurricaneIrma & the City of Miami Beach: https://t.co/MU48Zs0Xgj pic.twitter.com/jRzDY13Nsu

— City of Miami Beach (@MiamiBeachNews) September 7, 2017
UPDATE 9 p.m. ET: Law enforcement in the Florida Panhandle now warning travelers to be aware of increased traffic due to evacuations.
Evacuations in South Florida have begun. Expect increase
traffic on the Interstate in the Panhandle. Be patient we are all in this
together! pic.twitter.com/onYPZOmSpe

— FHP Troop A (@FHPTroopA) September 6, 2017
…………………..
……………………………..
Is Irma The Most Powerful Atlantic Storm?
http://www.telegraph.co.uk/news/2017/09/06/hurricane-irma-latest-live-news-strongest-ever-atlantic-storm/
There seems to be a lot of disinformation around about Irma being the "most powerful Atlantic Ocean storm in recorded history" with sustained winds of 185 mph, such as the Telegraph above. I also heard the same comment on ITV News yesterday.
As I pointed out yesterday:
Four other storms have had winds as strong in the overall Atlantic region but they were in the Caribbean Sea or the Gulf of Mexico, which are usually home to warmer waters that fuel cyclones.

Hurricane Allen hit 190 mph in 1980, while 2005's Wilma, 1988's Gilbert and a 1935 great Florida Key storm all had 185 mph winds.
In other words, there have now been four hurricanes as strong or stronger since 1980, about one every decade, and certainly nothing like the "unprecedented" impression left by the headlines.
And as we know, prior to Allen in 1980, we had very little in the way of measurements in mid ocean.
A closer look at the Labour Day Hurricane of 1935, widely acknowledged to be by far the most powerful storm to hit the US, emphasises this fact.
According to HURDAT:
The Labour Day Hurricane was the strongest hurricane to ever make landfall in the United States, based upon its central pressure of 892 mb. The maximum sustained winds at landfall in the Florida Keys are estimated to have been around 185 mph.
http://www.aoml.noaa.gov/hrd/hurdat/metadata_master.html
And as Chris Landsea's reanalysis highlighted, wind speeds were probably even higher, up to 164 kt, or 189 mph:
http://www.aoml.noaa.gov/hrd/Landsea/landsea-et-al-jclimate-2014.pdf
Wind speeds were almost certainly even greater offshore prior to landfall, but in those days there was no way to measure them. Any anemometers in the area would have been destroyed in such high winds.
Therefore meteorologists relied heavily on measurements of pressure, and it is this which casts suspicion on claims about Irma.
If we look again at the five hurricanes listed above, we find:
| | | |
| --- | --- | --- |
| | mph | Central Pressure hPa |
| Labour Day | 185 | 892 |
| Allen | 190 | 899 |
| Gilbert | 185 | 888 |
| Wilma | 185 | 882 |
| Irma | 185 | 914 |
https://en.wikipedia.org/wiki/List_of_Category_5_Atlantic_hurricanes
Wind speeds don't always correlate exactly with pressure, but pressure is usually a pretty good guide.
And we can see that Irma is not in the same league as the others.
The wind speeds estimated for Irma may be right, but if so it would indicate that they were underestimated for the other storms.
Meanwhile the early indications are that Irma is gradually losing strength, now down to 175 mph.
http://abcnews.go.com/US/hurricane-irma-slams-caribbean-florida-face-direct-impacts/story?id=49645643
But the models still have little idea about where it is heading.
http://abcnews.go.com/US/hurricane-irma-slams-caribbean-florida-face-direct-impacts/story?id=49645643