Jordanian King Abdullah II Bin Al-Hussein, while addressing the United Nations General Assembly on Tuesday, called on the international community to combat "Islamophobia," deeming it a threat that fuels terrorism along with jihadi ideology.
The king declared:
An effective global response to terror also requires continued collective action. Let's be clear about it: for all our victories, the fight against these outlaws, the khawarej of Islam, is not over. Winning the war demands a long-term, holistic approach, one that pairs security measures with strong initiatives that support inclusion and hope. Offline and online, we must counter all and I say all ideologies of hatred, including Islamophobia. Jordanians have led efforts to unite the world in mutual respect and understanding.
His remarks echoed comments he made before the international body in 2016.
During the general assembly's annual meeting in September of that year, King Abdullah "decried both Western Islamophobia and the terrorist 'outlaws' who sully the name of Islam, warning the United Nation General Assembly that both threaten the future of society," the U.N. reported.
U.N. Secretary-General Antonio Guterres has deemed "Islamophobia" an international problem.
"Racism, xenophobia, anti-Semitism or Islamophobia are … poisoning our societies," the U.N. chief said in August 2017, adding, "It is absolutely essential for us all to stand up against them everywhere and every time."
The U.S. provides Jordan with hundreds of millions of dollars each year in foreign aid, making the kingdom one of the largest recipients of American taxpayer funds.
In 2017 alone, U.S. assistance to Jordan, a member of the international coalition against the Islamic State (ISIS/ISIL), reportedly exceeded $1 billion.
Despite disagreements over U.S. President Donald Trump's decision to recognize Jerusalem as Israel's capital, his administration agreed to further increase assistance to Jordan, signing a memo of understanding in February to provide the Middle Eastern nation at least $1.275 billion a year annually over the next five years.
The Jordanian king stressed his support for a two-state solution that would include an independent Palestinian state with East Jerusalem as its capital and Israel.
"We will counter any attempts to change the holy city's historic Arab Christian and Muslim identity," Abdullah proclaimed.
Jordan joined 128 U.N. member states that urged the Trump administration to rescind its recognition of Jerusalem as Israel's capital.
…
Maldives Destroys British Statues Deemed Offensive to Islam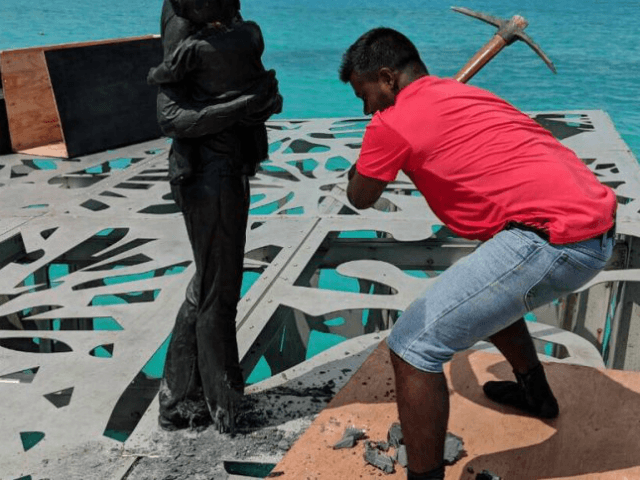 (AFP) COLOMBO, Sri Lanka — Police armed with pickaxes and power tools have destroyed a modern artwork by a celebrated British sculptor in the Maldives, after the outgoing president in the tourist haven declared the installation offensive to Islam.
Abdulla Yameen in July ordered the sculptures demolished but his ruling was not acted upon until Friday, on the eve of a presidential election which he lost to a liberal candidate.
A series of statues by Jason deCaires Taylor were placed inside a semi-submerged metal cube in July at a resort in the Maldives, an archipelago of 340,000 Sunni Muslims popular with tourists.
Islam, the official religion in the Maldives, bans the depiction of idols, and the work provoked some criticism from clerics even though the statues have no religious symbols or meaning.
Yameen said in July that "significant public sentiment" against the artwork known as "Coralarium" had guided his decision to destroy it.
Jason DeCaires Taylor 'heartbroken' over destruction of Maldivian sculpture #Coralarium #JasonDeCairesTaylor #Maldives #Sculpture https://t.co/X60zINqy5s pic.twitter.com/UBcqrWCRQa

— Scuba Diver (@ScubaDiverMag) September 25, 2018
It is unclear why the sculptures were not raised from the waters until Friday, just two days before Yameen was turfed out of office.
Police were photographed chipping away at the works with pickaxes and using power tools to remove them from the large and ornate cage housing them.
A video posted by state media showed several men tearing a statue off a plinth.
"I was extremely shocked and heartbroken to learn that my sculptures have been destroyed by the Maldivian authorities at the Coralarium, despite continued consultations and dialogue," deCaires Taylor told AFP in a statement.
"The Coralarium was conceived to connect humans to the environment and a nurturing space for marine life to thrive. Nothing else!
"The Maldives is still beautiful, with a warm and friendly population, but it was a sad day for art and sad day for the environment."
The import of statues is prohibited in the Maldives. Even depictions of the Buddha are banned despite a long legacy of Buddhism in the islands before Islam came to dominate the archipelago.
Despite the edict, huge cutouts of Yameen towered over the capital Male in the lead-up to Sunday's poll, which he lost after five years of strongman rule marked by a regression from democracy.
Many of these cardboard posters depicting the ousted leader were torn down after he suffered a shock defeat to opposition candidate Ibrahim Mohamed Solih, an act of defiance unthinkable under his iron-fisted leadership.