By Paul Homewood
Musk gets ever more desperate.
From the Mail:
Tesla requested its suppliers return what it calls 'a meaningful amount of money'
The plea raises questions around the car company's cash reserves
All of Tesla's suppliers were asked to help the company turn a profit
Tesla has been burning cash at a rate of about $1 billion (£0.76bn) each quarter
Last week, it was revealed Model 3 buyers have been cancelling their orders
Tesla has requested some suppliers refund a portion of what the automaker has already spent on orders in a bid to help it turn a profit, according to a leaked memo.
The plea, which has been branded 'desperate' and 'ludicrous' by a leading industry expert, raises questions around Tesla's cash reserves.
Earlier this year, CEO Elon Musk said he expected Tesla to become profitable in the second half of 2018, despite losing $710 million (£540 million) on a revenue of $3.41 billion (£2.6 billion) during the last quarterly results.
According to the confidential memo, which was sent by a global supply manager for the company, Tesla has requested what it calls a 'meaningful amount' of money on its payments since 2016 from its supplier.
ll suppliers for the company are being asked to help Tesla become profitable, according to the memo seen by the Wall Street Journal.
The electric car company declined to comment on any specific leaked memos, however, confirmed that it is seeking price reductions from suppliers for projects, some of which date back to 2016.
Supply-chain consultants told the paper that sometimes automakers will demand a reduction in price for a current contract going forward or use the promise of a new deal as leverage to get savings upfront.
However, it is unusual for an automaker to ask for a refund for past work, they said.
It's simply ludicrous and it just shows that Tesla is desperate right now,' Dennis Virag, a manufacturing consultant who has worked in the automotive industry for 40 years, told the Wall Street Journal.
'They're worried about their profitability but they don't care about their suppliers' profitability.'
Tesla has been burning cash at a rate of about $1 billion (£0.76bn) a quarter and finished the first quarter with $2.7 billion (£2bn) in cash on hand.
However, it has struggled to balance its desire for growth with the expense of launching new vehicles and building out infrastructure to support its business.
Tesla is ready to be profitable, CEO and co-founder Elon Musk recently wrote in an internal email to all staff.
The company just needs to whittle down its capital expenditures, Musk added.
CEO Elon Musk has previously stated that he wants to avoid raising additional cash from venture capitalists and investors, promising the electric automaker will become cash-flow positive thanks to the continued Model 3 build rate.
Many analysts expect Tesla will eventually have to resort to raising more money.
MailOnline has contacted Tesla for comment.
Last week, it was revealed a growing number of Model 3 buyers have been cancelling their orders, following supply chain issues with the vehicle.
http://www.dailymail.co.uk/sciencetech/article-5980823/WSJ-Tesla-seeking-cash-suppliers.html
…
Wall Street Journal Reporter Deletes Twitter Account Following Tesla Model 3 Review Backlash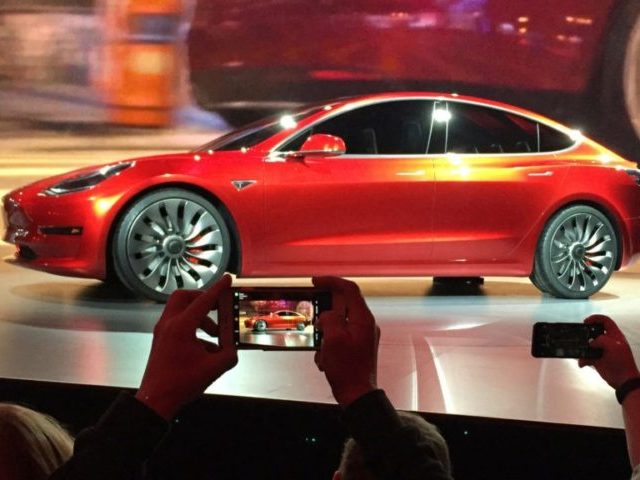 Wall Street Journal reporter Dan Neil has deleted his Twitter account following severe backlash over his recent Tesla Model 3 review — from both Tesla fans and critics.
Dan Neil, a reporter for the Wall Street Journal, recently published his first review of Tesla's Model 3 electric car. The review was quite balanced, in fact, Neil was quite complimentary of the car, writing:
I'm no financial analyst, but I do know cars. If you were hoping Tesla TSLA, -3.80%  would fail on account of the Model 3 I've got bad news: This thing is magnificent, a little rainbow-farting space ship, so obviously representative of the next step in the history of autos. I know there are a lot of Tesla bears, haters and cynics out there. Tesla boss Elon Musk makes it easy. But in the spirit of charity I think we can all agree many brilliant people are putzes.
But Neil also had some criticisms of the car and its assembly saying:
The factory in Fremont is a dimly lit, vertically integrated madhouse. The place is the Kobe beef of lean production, with subassemblies and panels stacked to the rafters. About 30 percent of the Model 3's robotic assemblers are hanging from above, to increase what one engineer called "manufacturing density." Jeez. Keep your arms and legs inside the ride at all times.
But despite Neil's largely positive review, both Tesla fans and detractors took to Twitter to express their dissatisfaction over the review. Some critics accused Neil of being biased towards Tesla or owning stock in the company, while others questioned why Dan hadn't reviewed other electric cars or Tesla's $35,000 Model 3 car (which is not yet available.)
Here are just some of the tweets that Neil was bombarded with following his review, which were captured by auto journalism site Tire Meets Road:
Neil isn't one to back down from criticism and replied to many of the tweets he received:
However, a short time later, Neil deactivated his Twitter account. It would seem that any discussion about Tesla and Elon Musk often devolves into a battle between fanboys and detractors. Any well-rounded analysis of Tesla's products and market strategy has no place in online discourse — you're either with Elon Musk or against him.
Neil has reportedly not replied to a request for comment from Jalopnik about his account deletion, but his account currently remains deactivated.
24% of Tesla Model 3 Orders Cancelled, Cancellations Outnumber New Orders
By David Middleton
From the purveyors of Fake News…
24% of Tesla Model 3 orders have been canceled, analyst says

by Jordan Valinsky @CNNMoney
July 19, 2018

Tesla is finally making enough Model 3s — but an analyst says many customers are growing too impatient to wait any longer for them.

Cancellations for Model 3 orders have picked up in recent weeks. Refunds now outpace deposits for Tesla's new mass-market electric car, according to Needham & Co. analyst Rajvindra Gill. Tesla disputes that.

In an analyst note delivered to clients Thursday, Gill cited extended wait times for the car, the expiration of a $7,500 tax credit, and the fact that Tesla has not yet made the $35,000 base model of the car available for purchase yet.

About one in every four Model 3 orders is canceled, Gill said, double the rate from a year ago. Customers have to put down a refundable $1,000 deposit to reserve a Model 3, then pay another $2,500 to choose their specific version. They pay the rest when the car is delivered.

The wait time for a Model 3 is about 4 months to a year, and base model customers could wait until 2020, Gill said.

A Tesla spokesperson denied that Model 3 cancellations exceed new orders.

[…]
Who do you believe?  Stark Industries Tesla, CNN or the Wall Street analyst?
Tesla has finally topped 5,000 Model 3 units per month, delivering 6,250 and 6,062 in May and June respectively.  Tesla's monthly Model 3 output is now up to about 55 hours worth of Ford F-Series production.