Brandy Mosley
A body found near a beach in Texas was identified Tuesday as a mom who had tried saving her young son from a giant wave.
Brandy Mosley's son was playing in the sand near the water and wearing water wings when he was swept up by the wave at Crystal Beach in Galveston on Monday, friends said. Mosley and a relative reportedly went to grab him.
The son and the relative made it back to shore but when they turned around Mosley was gone, according to witnesses.
Rescue planes searched for hours. Relatives rushed in from Houston and the Dallas area, Fox 26 reported.
On Tuesday a body turned up near the Gulf Port Village subdivision in Crystal Beach, two miles from where Mosley was last seen.
The Galveston County Sheriff's Office confirmed a tattoo on the body matched the description of one Mosley had.
Beaches on the Bolivar Peninsula do not have lifeguards and residents say visitors are unaware of dangerous riptides, according to the New York Daily News.
Mosley owned B's Hive of Therapy Day Spa in Palestine, Texas.
Mosley made every day the best day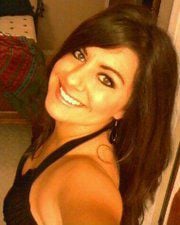 On the day after Brandy LeBlanc Mosley drowned after trying to rescue her four-year-old son, Palestine remembered the popular businesswoman as a beautiful and vivacious woman who tried to make every day the best day.
Mosley, 35, who disappeared on Monday near Crystal Beach during a beach vacation, is well-known in Palestine as the owner of B's Hive of Therapy Day Spa.
"It's heart breaking," said Sarah Lee of Palestine. "I met Brandy several years ago and we immediately clicked. She is so funny. We would laugh until we cried.
"We took a snow day one winter and entered a snowman contest with (radio station) KYYK. We went all out with a table and making a snowman look like it was getting a massage in front of her building. That's what I will always remember about her: she was always ready to make today the best day."
Another long-time friend called Mosley an immensely private, self-made woman, who worked hard for everything she had.
"Brandy was a wonderful friend," Kori Wells said. "That she would give her life to save a child speaks volumes of her character."
Mosley attended several area schools, including Grapeland elementary.
"She was in my grade," Kendra Huff said. "We were friends. She was beautiful then, just as she is now. As a kid, she had such a bubbly personality – full of energy. She always had a smile on her face and was laughing about something."
Huff said Mosley had reached out to her in recent years on Facebook. They exchanged kind words and caught up on each other's lives.
"Just a very sad situation," said Huff. "Even before this incident, I heard nothing but good things about her."
A licensed massage therapist, Mosley opened B's Hive of Therapy in 2007. The business specialized in Swedish and deep tissue massages, hot stone therapy, uplifing facial massages with cold stones, lymphatic drainage, and other therapeutic massage and spa techniques.
In 2009 and 2011, she was voted Best Massage Therapist in the "Best of" contest sponsored by the Herald-Press.
Active in the community, Mosley belonged to the Palestine Area Chamber of Commerce. She was married to Kevin Mosley. The couple had one son, Toran.
Another friend remembers Mosley as honest, genuine, and outgoing.
"She always voiced her opinion, whether you wanted it or not," Charlie Yaunk-Tunstall said. "I loved that about her."
Yaunk-Tunstall said Mosley was always smiling.
"She was the sweetest soul and her smile was one in a million," she said. "Her professionalism at work and in public was always top notch."
Yaunk-Tunstall and Mosley were friends for 11 years and worked together before the B's Hive opened.
"I'm so proud of her and all her accomplishments," she said. "She was a true friend and would go above and beyond for anyone."
Yaunk-Tunstall said Brandy's pride and joy was her son, Toran. "Hands down, she was the most amazing mother to Toran," she said. "She and I were pregnant together. She always said she wasn't going to have kids, and she was one of the best mamas I've ever known."
It was a privilege to call Mosley a friend, Yaunk-Tunstall said. "She would bend over backwards for her friends and her sweet clients at the spa," she said. "God bless her sweet soul."