By Paul Homewood
h/t Philip Bratby
An ambitious strategy setting out how the UK is leading the world in cutting carbon emissions to combat climate change while driving economic growth, has been published today (12 October 2017) by Business and Energy Secretary Greg Clark.
'The Clean Growth Strategy: Leading the way to a low carbon future' builds on the UK's strong progress to date. Carbon emissions in the UK have fallen and national income risen faster and further than any other nation in the G7 – since 1990, emissions are down by 42% while the economy has grown by 67%. 
The government's strategy sets out how the whole country can benefit from low carbon economic opportunities through the creation of new technologies and new businesses, which creates jobs and prosperity across the UK, while meeting our ambitious national targets to tackle climate change.
Business and Energy Secretary Greg Clark said:
This government has put clean growth at the heart of its Industrial Strategy to increase productivity, boost people's earning power and ensure Britain continues to lead the world in efforts to tackle climate change.

For the first time in a generation, the British government is leading the way on taking decisions on new nuclear, rolling out smart meters and investing in low carbon innovation. The world is moving from being powered by polluting fossil fuels to clean energy. It's as big a change as the move from the age of steam to the age of oil and Britain is showing the way.
Climate Change and Industry Minister Claire Perry said:
The impact of the Paris agreement and the unstoppable global shift towards low carbon technologies gives the UK an unparalleled opportunity.

By focusing on Clean Growth, we can cut the cost of energy, drive economic prosperity, create high value jobs and improve our quality of life.
Every action that the government takes to cut emissions must be done while ensuring our economy remains competitive. The government's actions to reduce carbon emissions, through support for renewable energy and energy efficiency measures, have helped to reduce average consumer energy bills and more than offset the cost of government support for low carbon technologies, and the costs of key technologies such as offshore wind is plummeting.
For the first time the government is setting out in today's Strategy how over £2.5 billion will be invested to support low carbon innovation from 2015 to 2021, as part of the largest increase in public spending on science, research and innovation in over three decades. This funding covers programmes delivering low carbon energy, transport, agriculture and waste.
That £2.5 billion of existing government spending includes up to £505 million from the Department for Business, Energy and Industrial Strategy's Energy Innovation Programme, which aims to accelerate the commercialisation of innovative clean energy technologies and processes.
There are already more than 430,000 jobs in low carbon businesses and their supply chains. Today's policies will provide further opportunities right across the country for more jobs, higher earning power and increased productivity. The low carbon economy could grow 11% per year between 2015 and 2030 – faster than the rest of the economy.
https://www.gov.uk/government/news/government-reaffirms-commitment-to-lead-the-world-in-cost-effective-clean-growth
There is a lot of nonsense to follow about how we are going to drive the economy forward by investing more in offshore wind, electric cars, climate friendly agriculture, CCS and a zero waste strategy. I fail to see how the public at large will actually be financially better off as a result of any of these.
Instead, most of the proposed actions will simply act to transfer money away from more productive parts of the economy.
But the thing I really wanted to concentrate on is this statement:
Carbon emissions in the UK have fallen and national income risen faster and further than any other nation in the G7 – since 1990, emissions are down by 42% while the economy has grown by 67%.
I have noticed this sort of statement made a few times lately. It implies that the two things are actually interconnected, that economic growth is not only possible despite decarbonisation but is the result of it.
Worse still, it suggests that decarbonisation will drive growth in future.
So let's look at a few facts.
Below is the chart from the CCC, showing GHG emissions v GDP
https://www.theccc.org.uk/publication/energy-prices-and-bills-report-2017/
If we home in on the split of CO2 emissions, we see this. (Note – this does not include non CO2 GHGs):
https://www.gov.uk/government/publications/updated-energy-and-emissions-projections-2016
In total, emissions have dropped by 210 MtCO2 since 1990, from 594 to 384 MtCO2.
Most of this fall has come from power production, but much of this, 57 Mt, came in the 1990s as a result of the dash to gas, which replaced coal and had nothing to do with climate policies but instead was driven by economics.
Since 2009, another 74Mt has been saved from power production. This splits roughly 50/50 between reduced consumption and the rise of renewables. Whilst some of this reduced usage may be due to energy efficiency, more than half has come from industrial consumption.
https://www.gov.uk/government/statistics/electricity-chapter-5-digest-of-united-kingdom-energy-statistics-dukes
By contrast, there has been virtually no drop in domestic consumption since 2014, despite the government's much vaunted energy saving programmes.
As the first graph showed, there has also been a drop in direct emissions by industry. These began to drop quite sharply around 2000, and are now 56Mt lower.
Both the drop in direct emissions and electricity consumption by industry likely reflect a reduction in industrial activity, particularly heavy energy users. This is borne out by figures from the ONS for Industrial Production, which are down by 11% since 2000.
https://www.ons.gov.uk/economy/grossdomesticproductgdp/timeseries/l2kq/qna
I am certainly not saying that this fall in output has been caused by energy prices, but it is abundantly clear that it has been responsible for much of the reduction in CO2 emissions.
But what about overall GDP? As the CCC shows, it has risen steadily since 1990, with the exception of the 2008 blip.
Is the economy simply moving from being a manufacturing to a service economy?
The answer lies in this next graph:
https://www.ons.gov.uk/economy/grossdomesticproductgdp/timeseries/mwb6/ukea
Real GDP per capita has virtually flatlined since 2007, rising by just 2.1%. The headline GDP increase as presented by the government is largely the result of population increase, and not of increased productivity.
There are many reasons for this, and it would be naive to blame it all on climate policies. However, it offers little confidence that the government's new strategy will bring about the economic growth it claims.
…………………………
Report: Renewable Energy Is Bigger 'Scam' than Bernie Madoff and Enron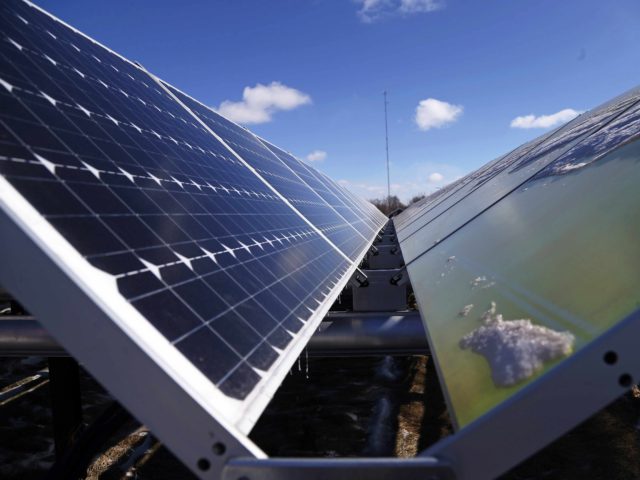 The greatest scam being perpetrated against taxpayers and consumers is renewable energy, according to a new analysis published by the Australian, greater even than Ponzi, Madoff and Enron.
While sinking enormous financial resources into propping up renewable energy prospectors, national governments are providing no perceptible benefits to their citizens, writes Judith Sloan, a renowned Australian economist who has served on the Australian government's Productivity Commission.
"With very few exceptions, governments all over the world have fallen into the trap of paying renewable energy scammers on the basis that it is necessary, at least politically, to be seen to be doing something about climate change," Sloan writes, before providing readers with an avalanche of economic data to back up her assertion.
In Australia, more than 2 billion taxpayer dollars a year are funneled to renewable energy handlers by virtue of the operation of the renewable energy target and the associated renewable energy certificates, Sloan observes.
At the same time, the Australian Renewable Energy Agency "shovels out hundreds of millions of dollars annually to subsidise renewable energy companies, many of which are overseas-owned," she states, and the Clean Energy Finance Corporation was given $10 billion in equity by the Gillard Labor government "to lend or grant money to renewable energy companies."
Despite this enormous taxpayer "investment," so-called renewable energy has yet to pay any dividends or to suggest it will be economically viable for the foreseeable future.
Sloan's grim analysis of the state of renewable energy as a financial sinkhole in Australia is mirrored by other countries such as the United States.
According to Forbes, on a total dollar basis, wind and solar together get more from the federal government than all other energy sources combined, despite the fact that neither is anywhere close to self-supporting. Wind has received the greatest amount of federal subsidies. Solar is second.
Based on production (subsidies per kWh of electricity produced), however, solar energy "has gotten over ten times the subsidies of all other forms of energy sources combined, including wind," writes energy expert and planetary geologist Dr. James Conca.
During the Obama years from 2010 through 2013, federal renewable energy subsidies increased by 54 percent—from $8.6 billion to $13.2 billion—despite the fact that totalfederal energy subsidies declined by 23 percent during the same period, from $38 billion to $29 billion.
In absolute terms, between 2010 and 2013 solar energy alone saw a 500 percent increase in federal subsidies from $1.1 billion to $5.3 billion.
In this same period, subsidies for fossil fuels decreased by 15 percent. from $4.0 billion to $3.4 billion, and subsidies for nuclear energy fell by 12 percent, from $1.9 billion to $1.7 billion.
One of the more pernicious side-effects of the enormous government subsidies for renewable energy, Conca found, is that they actually increase the cost of energy. This cost, however, is transferred from the energy consumer to the taxpayer, "and so goes unnoticed by most Americans," he stated.
While during the period between 2010 and 2014 nuclear energy cost about 4¢ and 5¢ per kWh to produce, solar energy cost between 80¢ and 100¢ per kWh, or 20 times as much to produce. This despite the fact that nuclear energy is "as renewable as wind" but doesn't enjoy the same star status among environmental activists.
Returning to the case of Australia, Sloan argues that if one were to sum up all the taxpayer-funded subsidies, grants, concessional loans, guarantees and the like the aggregate amount "dwarfs any other government industry assistance aid."
Something similar has happened in Germany, Sloan states, where Chancellor Angela Merkel decided to shut down all the country's nuclear power plants, to be replaced with "renewable energy." The target for 2030 is for 50 percent of the nation's power to come from renewables.
The ill-fated Energie­wende, the country's program for energy transition, has hit serious hurdles, Sloan notes, not least the extraordinary cost that now totals some €650 billion.
In an odd twist of fate, late last year the wind simply didn't blow for several days and a thick fog surrounded many parts of Germany, and thus the output from renewables fell to just 4 percent of total demand. It was Poland, "with its black coal-fired electricity plants," that came to rescue Germany from its self-induced energy crisis.
The best approach for the future, Sloan concludes, entails "acknowledging that enough is enough when it comes to subsidising renewable energy."
The sector has been showered with favors with little to show for it, she observes, and it is high time "it stood on its own two feet without any preferential treatment or financial assistance."
…………………………..
Claim: Renewables ARE the Cheapest Form of Power
by Eric Worrall
Simple economics is now driving the unstoppable rise of renewables, according to advocates – or would be, except for a mystery political obstacle.
The Myth About Coal Being Cheaper And More Reliable Than Renewables

Renewable energy is now the cheapest form of new power.

04/10/2017 11:51 PM AEDT
Anthony Sharwood

Nope, nope and nope again. There's yet more proof this Friday that coal is neither cheaper nor more reliable than renewables as an energy source, and that coal is only going to get more expensive in the future.

We were given excellent evidence of this in April, when the CSIRO and Energy Networks Australia report told us that renewables could save households $414 a year by 2050.

Further proof arrived in June when the Independent Review into the Future Security of the National Electricity Market (aka the Finkel Report) told us that ramping up renewables would lead to lower power prices.

And now the Climate Council has weighed in, showing that we really can have our energy cake and eat it too — if by energy cake you mean cleaner, cheaper power, and by eating it, you mean reliability of supply.

The Council's new report is entitled 'Powering a 21st Century Economy: Secure, Clean, Affordable Electricity' and you can find it here.

…

So if technology's not holding us back, and cost is not the issue, what on earth is stopping us from transitioning as quickly as possible to cleaner, more affordable renewables?

One word: Politics.

"Politics is the only factor standing in the way of Australia's transition to a modern electricity network, powered by renewable energy and storage technology," Climate Council CEO Amanda McKenzie said.

…
Read more: http://www.huffingtonpost.com.au/2017/10/04/the-myth-about-coal-being-cheaper-and-more-reliable_a_23231954/
What is the "politics" which seems to be such an impediment to a cheaper renewable future? One clue might be the conclusion of the report referenced by The Huffington Post. The report prepared by the Climate Council, the body led by our old friend Chief Councillor Tim Flannery;
… Importantly, while we may use some existing gas plants during this transition, we do not need new gas or coal plants built. Persisting with existing coal plants beyond their technical design lives will lead to unreliable power and higher electricity prices and continued high levels of pollution from Australia's electricity sector.

This transition requires shifting away from obsolete "baseload" concepts and inflexible old coal power generators to a modern, flexible, 21st Century grid powered by a diverse mix of renewable energy and storage technologies. …
Read more: Climate Council Report Available Here
Is the political obstacle an outmoded adherence to the concept of baseload power? Maybe. But I'm not convinced we've fully explored this "politics" obstacle, so I decided to delve deeper;
Politics preventing Australia's switch to 21st Century energy

BY CLIMATE COUNCIL
04.10.2017

Politics is the only factor standing in the way of Australia's transition to a modern electricity network, powered by renewable energy and storage technology, according to a new report released by the Climate Council today.

…

Climate Councillor and energy sector expert Andrew Stock also pointed to states and territories across the nation pushing ahead with the transition to renewables and storage technology, in a bid to achieve secure and reliable power, while also tackling climate change.

"South Australia is a global leader and is investing in solar PV, solar thermal, pumped hydro storage, and the world's largest lithium ion battery. Others like the ACT, followed by Victoria and Queensland, are now rolling out large-scale renewables such as wind and solar," he said.

"There's no disputing it – fossil fuel technology is obsolete, expensive and unreliable. In fact, Within 10 years, over two thirds of our coal plants will be over 50 years old. It's time to look to the future with an energy system fit for the 21st Century."

…
Read more: https://www.climatecouncil.org.au/politics-preventing-australia-s-switch-to-21st-century-energy
Do Greens think the political obstacle is a failure by governments to invest in renewables? But if renewables are cheaper, why is government investment required? Why aren't private investors rushing to fund cheap renewables even without government help, to make a huge profit driving their obsolete fossil fuel rivals out of business?
If cheaper renewables are skyrocketing even without government help, why is politics still seen as such an obstacle?
I don't want to jump to conclusions. Maybe I have misunderstood something. I'm genuinely interested in understanding what political obstacles greens think are preventing the realisation of a low cost energy future powered by renewables.
Because we all want cheaper power, right?