An Iranian-made drone was shot down by a US F-15 fighter jet in southern Syria, near At Tanf, the US-led coalition said. It is the fifth time in the past month the US has struck at forces allied with the Syrian government in the area.
An armed Shaheed-129 UAV "displayed hostile intent and advanced on Coalition forces" at 12:30 am local time on Tuesday, the coalition said in a statement. The drone was observed in the same area where another UAV was shot down on June 8.
.@CJTFOIR statement on the shooting down of an armed pro-regime drone in southern Syria pic.twitter.com/PbwKIOmmnt

— Fergus Kelly (@ferguskelly) June 20, 2017
Tanf is the town on Syrian border with Jordan where US troops are training Syrian rebels, officially described as "partner ground forces."
The coalition "does not seek to fight Syrian regime, Russian, or pro-regime forces partnered with them, but will not hesitate to defend Coalition or partner forces from any threat," the statement said.

On Sunday, US aircraft shot down a Syrian government jet that was bombing Islamic State (IS, formerly ISIS/ISIL) positions south of Raqqa, in eastern Syria.
In response, Russia announced its air defenses would track all coalition targets west of the Euphrates, and suspend the "deconfliction" hotline. Moscow has accused the US of not using the hotline to prevent the Raqqa incident.
Coalition's airborne objects in Russian Air Force's Syria missions areas to be tracked as targets – Moscow https://t.co/H4O5QmkXkU pic.twitter.com/xIiwvl3U1h

— RT (@RT_com) June 19, 2017
While the US maintains the hotline is still operational, the coalition said it will "not allow pro-regime aircraft to threaten or approach in close proximity to Coalition and partnered forces."
Hostility towards coalition and partner forces "conducting legitimate counter-ISIS operations will not be tolerated," the coalition said. There is no IS-controlled territory in contact with the US-backed forces at Tanf, however.
Reacting to Russia's warning, the Royal Australian Air Force (RAAF) has suspended flights over Syria.
Related
Israeli minister threatens to destroy Syrian air defenses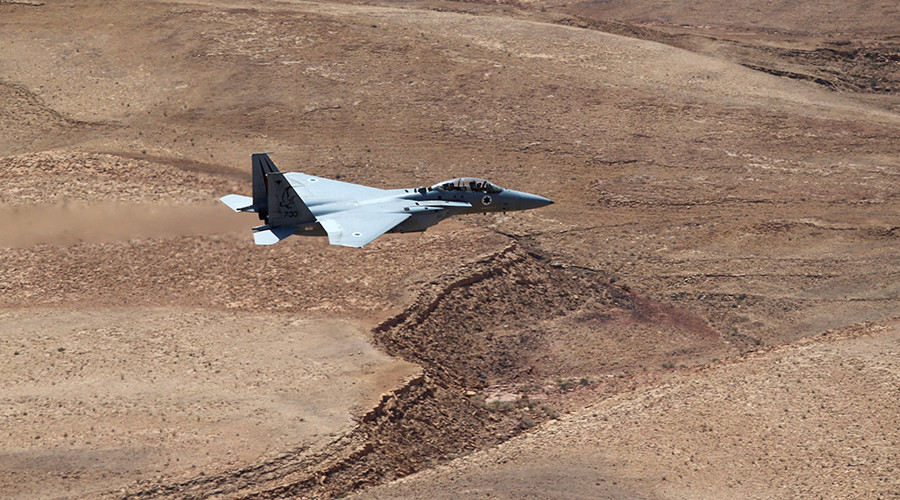 The Israeli defense minister threatened to destroy Syrian air defenses after they shot at Israeli warplanes, which violated Syrian airspace and bombed targets on Syrian soil.
"Next time, if the Syrian aerial defense apparatus acts against our planes, we will destroy it," Avigdor Lieberman told Israeli Public Radio on Sunday. "We won't hesitate. Israel's security is above everything else; there will be no compromise."
He was referring to the Friday morning raid of the Israeli Air Force, the latest of several reported over the past few years, in which Israel claimed it targeted weapons bound for the Lebanese militant movement Hezbollah. Israel says it has to protect itself from advanced weapons which the militants try to obtain from the Syrian government.
Syria shot surface-to-air S-200 missiles at the Israeli planes as they were flying back from the night mission. Damascus claims it shot down one of the planes, while Israel denies it.
The Israeli media said one of the Syrian missiles was intercepted by Israel's Arrow air defense system. It was the first time Israel officials have confirmed combat use of the advanced anti-missiles, which are originally meant to intercept heavy long-range ballistic missiles.
The Israeli military is investigating whether the decision to fire Arrow interceptors against the Syrian anti-aircraft missiles was justified, according to Haaretz.
The former prime minister and defense minister, Ehud Barak, said Saturday that the involvement of the system forced Israel to acknowledge cross-border military activity.
"It could be that with more thorough thought, it wasn't worth firing," Barak said at a community lecture in Be'er Sheva.
"We have usually tended to reserve what would be called 'room for denial' for Syrian President [Bashar] Assad," he added.
While Israeli acknowledgment of an intervention in Syria is rare, it is not unprecedented. Last April, Prime Minister Benjamin Netanyahu confirmed for the first time that an attack on dozens of Hezbollah targets in Syria was indeed conducted by Israeli warplanes, as speculated by the media.