A Seattle woman was inspired to out her alleged sexual abuser after she observed Christine Blasey Ford testify to the Senate Judiciary Committee on Thursday.
"Today I watched as Dr. Christine Blasey Ford and Supreme Court Nominee Brett Kavanaugh testified before the Senate Judiciary Committee," accuser Candace Faber wrote on Medium that afternoon. "Like many survivors, I was inspired by Dr. Ford's courage."
"That is why I chose to name my rapist on Twitter: Joe Fain. He currently serves as a Senator in the Washington State Legislature. I did this without professional legal counsel. It was a decision I made in the moment," she added.
Much like with Ford's accusation against Supreme Court nominee Brett Kavanaugh, whom she's claimed without evidence had sexually assaulted her decades ago, Fain's accusation pertains to events that allegedly transpired years ago.
She specifically claimed in a tweet directed at Fain that he had raped her the night she graduated from Georgetown University in 2007, or 11 years ago. More …
…
One of Kavanaugh's Late Accusers Is Referred for Prosecution for Lying
By Ian Mason
The Senate Judiciary Committee made a criminal referral Saturday for the Rhode Island man who claimed Judge Brett Kavanaugh sexually assaulted his friend on a boat in 1985, asking that he be prosecuted for lying to Congress.
In a letter, Judiciary Committee Chairman Chuck Grassley (R-IA) asks Attorney General Jeff Sessions and FBI Director Christopher Wray that the accuser, whose name was redacted, be investigated for "potential violations of 18 U.S.C. §§ 1001 and 1505, for materially false statements [he] made to the Committee as part of its investigation of allegations against Judge Kavanaugh."
The accuser's name has been redacted in all Senate documents since this allegation first became public with the release of a transcript from Kavanaugh's Monday conference call under penalty of felony, in which he cateogorically denied it. Journalists, however, were quickly able to find the social media account referenced along with the allegation. The account identified itself as "Jeffrey Catalan" and had been used to make calls for President Donald Trump to be overthrown by a military coup and accusations the president had murdered someone  in 1983. The account describes its owner as a "Graphic Artist, Artist, photography and writer. Hippie, First Responder, Father and Grandpa" from Tiverton, Rhode Island.
The Jeffrey Catalan account promptly retracted the allegation Wednesday night, claiming he made "a mistake" when he claimed a 20-year-old Judge Kavanuagh sexually assaulted a woman on a boat and that he then severely beat Kavanaugh for it. Grassley's Saturday letter references this retraction, confirming the identification of the accuser as "Jeffrey Catalan," although, because of the redaction, it is still not clear if that is the man's real name.
"Catalan," referred to as a "Rhode Island constituent," called Sen. Sheldon Whitehouse's (D-RI) office on Monday morning. He claimed that in Newport, Rhode Island, in August of 1985, he and a friend had confronted two other men named "Brett and Mark" and gave them a beating that left Brett and Mark with severe injuries. They, according to the call, had gone down to find Brett and Mark by the pier because an unnamed female friend told them she had been sexually assaulted by the pair on a boat after meeting them at a local bar.
Catalan claimed he knew that "Brett," the man he severely beat 33 years ago, was Judge Kavanaugh after seeing Kavanaugh's high school yearbook photo on the news jogged his memory.
Whitehouse's office considered the allegation credible enough to pass it on to the Judiciary Committee as a whole, leading committee staff to question Kavanaugh over the alleged incident later on Monday. Whitehouse himself, as is clear from a letter to the committee released Saturday, also sent the allegation to the FBI and gave the accuser a contact of his in the media to help break the story.
As with the at least four other accusations of sexual misconduct for which the Judiciary Committee has investigated Kavanaugh, the judge flatly denied it occurred. "I was not in Newport, haven't been on a boat in Newport. Not with Mark Judge on a boat, nor all those three things combined. This is just completely made up, or at least not me. I don't know what they're referring to," he told committee investigators.
With Catalan's retraction, it was clear enough to Grassley that the man had likely lied to Senator Whitehouse. Lying to congressional staff about an official matter they are investigating and deliberately obstructing a congressional investigation are both felonies, even when the intentionally misleading statements are not made under oath.
"The Committee is grateful to citizens who come forward with relevant information in good faith, even if they are not one hundred percent sure about what they know," Grassley wrote in his letter. "But when individuals provide fabricated allegations to the Committee, diverting Committee resources during time-sensitive investigations, it materially impedes our work. Such acts are not only unfair; they are potentially illegal."
…
'USA Today' Deletes Tweet Bashing Kavanaugh, Retracts Portion of Article After Backlash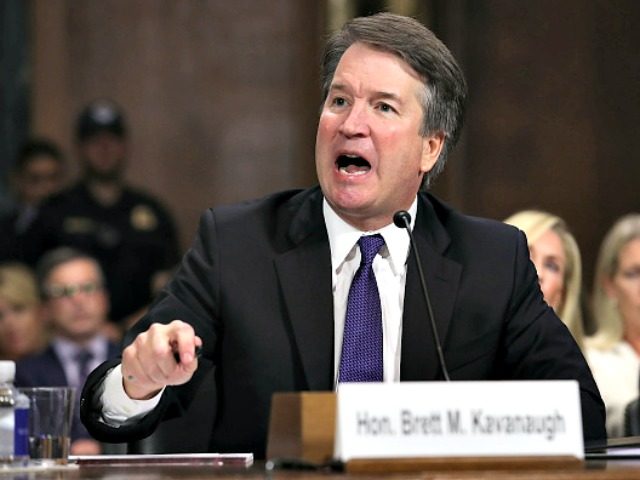 USA Today deleted a tweet promoting an article suggesting that Supreme Court nominee Brett Kavanaugh should "stay off basketball courts when kids are around" and not coach girls' basketball because he was accused of sexual assault.
The newspaper retracted the portion of the article containing that statement after receiving heavy backlash on social media.
A previous tweet contained a statement that has since been edited out of a sports column. That tweet has been deleted. The updated opinion column and editor's clarification are here: https://t.co/zhFOWMIjCb

— USA TODAY (@USATODAY) September 29, 2018
"A previous tweet contained a statement that has since been edited out of a sports column. That tweet has been deleted," the paper wrote in a Saturday evening tweet.
USA Today also provided a short editor's note at the beginning of the sports column "clarifying" the intent of the article, merely stating that it was "the writer's opinion":
Editor's note: Supreme Court nominee Judge Brett Kavanaugh has told members of the Senate Judiciary Committee he loves coaching his daughters' girls basketball teams, but said in testimony Thursday "thanks to what some of you on this side of the committee have unleashed, I may never be able to coach again."  The intent of this commentary was to address that question. The column was re-edited to more closely reflect that intent and labeled to reflect it as the writer's opinion.
The article focused on Kavanaugh's emotional testimony before the Senate Judiciary Committee on Thursday when Kavanaugh said that California psychology professor Dr. Christine Blasey Ford's allegations brought to the committee's attention by Senate Democrats ruined his reputation to the point where he may never be able to coach girls' basketball again.
"The U.S. Senate may yet confirm Kavanaugh to the Supreme Court, but he should stay off basketball courts for now when kids are around," wrote sports columnist Erik Brady.
Thousands of people slammed the paper for its "disgraceful" journalism before USA Today updated its article, but some people have not been so forgiving of the paper .. More …
…
Ford's best friend. Never saw Kavanaugh at any party. Never heard his name. https://t.co/q9x726w1ch

— ❌R. Wolfe❌ (@WhoWolfe) September 30, 2018
NEW from me: the woman who believes she is described as the victim of a 1998 sexual assault by Judge Brett Kavanaugh which was first reported by @NBCNews
denies it ever happened. https://t.co/eVmAymcBvG

— Kevin Daley (@KevinDaleyDC) September 27, 2018
.@NBCNews reported on this anonymous letter sent to Senator @CoryGardner describing Kavanaugh drunkenly assaulting a woman in 1998. https://t.co/7MCaq8m4C4 pic.twitter.com/sobNnsTkjA

— Kevin Daley (@KevinDaleyDC) September 27, 2018
If democrats didn't have hypocrisy they'd have NOTHING!! So hypocrites are what they give!! https://t.co/VcmKaz6knU

— CKP (@cparham65) September 30, 2018
Christine Ford is a con artist! pic.twitter.com/DjuQtYDmPk

— Jacob Wohl (@JacobAWohl) September 30, 2018