A screen capture from a video purporting to show the aftermath of an Israeli strike on a research facility in the Masyaf area of northwest Syria on July 22, 2018. (Screen capture: Twitter)
The site has been bombed by Israel in the past and the US accuses Syria of producing sarin gas there; hours before attack PM vowed to keep hitting Iranian presence in Syria
Israeli jets reportedly carried out a strike Sunday on a missile production facility in northwest Syria that observers say was supervised by Iranians. In the past, the site was allegedly used to produce and store chemical weapons.
"One of our military positions in Masyaf was the target of an Israeli air aggression," Syria's official news agency SANA said quoting a military source. Hebrew media quoted Syrian opposition officials as saying that several Hezbollah members were killed, but the reports could not be confirmed. SANA said the strikes cause only "material damage."
It was the fourth time this month that Syria has accused Israel of bombing a military position in the country.
There was no comment from Israel, but the strike came just hours after Prime Minister Benjamin Netanyahu warned Israel was continuously acting against Iran's military activities in Syria.
"We will not stop taking action in Syria against Iran's attempts to establish a military presence there," he said in a statement from his office.
A war monitor, the Britain-based Syrian Observatory for Human Rights, also reported the air strike and said it targeted a "workshop supervised by Iranians where surface-to-surface missiles are made."
"Iranian forces and forces from Lebanon's Hezbollah movement are deployed in that sector," Observatory head Rami Abdel Rahman told AFP.
A government scientific research centre is located in Masyaf and was hit by an Israeli air strike in September 2017.
Reports said the target of the strike was a facility belonging to the Scientific Studies and Research Center, known as CERS, near Masyaf in Hama province. Western officials have long associated CERS with the manufacture of chemical arms. According to the United States sarin gas was being developed at that center, a charge denied by the Syrian authorities.
The reports came just before dusk, marking what would be a rare daylight raid. Most of the attacks Israel has acknowledged carrying out in Syria have been at night. Israel has not acknowledged all the strikes attributed to it in Syria.
Al-Mayadeen, a television channel associated with Lebanon's Hezbollah terror group, which is fighting alongside regime forces in Syria, said the target of the strike was a research center in the area.
The network also reported the airstrike was carried out from Lebanese airspace.
Video was posted on social media reportedly showing attempts to intercept several of the missiles.
https://twitter.com/QalaatAlMudiq/status/1021086656781266944
Pictures purportedly of the strike showed smoke rising from the site.
דיווחים בשעה האחרונה-
מטוסים ישראלים חגו מעל אזור הבוקאע ותקפו מטרות בתוך סוריה-

כלי תקשורת בלבנון מדווחים שמטוסי חיל האוויר חגו מעל בקעת הלבנון, ושיגרו טילים לעבר מטרות בסוריה.
כנראה שתקפו מפעלי נשק במסיאף, בפרברי חאמה, בצפון מערב סוריה. pic.twitter.com/oUaQHr7HJY

— שמעון ארן شمعون آران (@simonarann) July 22, 2018
In September, Syria accused Israel of carrying out a strike on the facility that left two dead. The bombing came after opposition sources claimed that Iranian and Syrian specialists were working there to develop chemical weapons capability for missiles.
A senior member of the Syrian opposition, citing security officials still working for the regime at the time, told The Times of Israel in 2014 that Assad's forces were stockpiling chemical substances and missiles carrying chemical warheads at the site, which was not made available to international inspectors tasked with ensuring the destruction of the weapons.
Last week, Syria blamed Israel for a bombing raid targeted Al-Nayrab airbase, adjacent to Aleppo's international airport. The facility was identified in the past as a base for Iranian forces, including Tehran's Islamic Revolutionary Guard Corps.
Syrian rebel forces claimed that 22 people, including nine Iranians, were killed in the strike, the Qatar-based al-Jazeera network reported Monday. That figure, which could not be confirmed, was significantly higher than an earlier report of nine deaths by the Syrian Observatory for Human Rights, a Britain-based monitor.
Suspected Israeli airstrikes have hit Syrian army positions near Damascus and in the central provinces of Homs and Hama in the past, including on July 8, when Israel was said to have carried out an airstrike on the T-4 military base near Homs, also thought to be used by IRGC fighters.
…
Remember the mother of all wars (Saddam and Allah in 1992? – Allah didn't care to show up ..) Here's another mother of all wars ..
Iran's Rouhani Warns Trump: War with Iran 'Is the Mother of All Wars'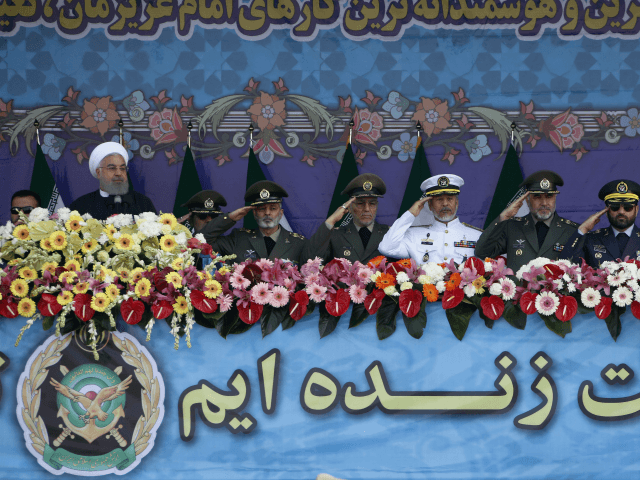 U.S. President Donald Trump was warned Sunday not to pursue hostile policies against Tehran, because "America should know … war with Iran is the mother of all wars."
The threat was made by Iranian President Hassan Rouhani during an address to a gathering of Iranian diplomats, Iran news agency ISNA reports. He said:
Iran's power is deterrent and we have no fight or war with anybody but the enemies must understand well that war with Iran is the mother of all wars and peace with Iran is the mother of all peace. We have never been intimidated and will respond threat with threat.

Today, speaking with US has no meaning except surrender and end of people's achievements. Mr. Trump! We are the people of dignity and guarantor of security of the waterway of the region throughout the history. Don't play with the lion's tail; you will regret it.
Sunday's direct threat against Mr. Trump is the second time in less than a month that the Islamic Republic's leader has gone on a tirade against the United States.
At the end of June, Rouhani said the regime would "bring America to its knees" and suggested that half of America's population is "ashamed of their government."
Speaking in an address on state television in Iran, Rouhani said Iranians must stand together to withstand any and all pressure from the United States, according to Reuters. He reportedly added, "We will take problems. We will take pressure. But we will not sacrifice our independence."
For his part, Mr. Trump has responded on Twitter that he has no intention of backing off and will continue to put pressure in Iran.
Such respect for the people of Iran as they try to take back their corrupt government. You will see great support from the United States at the appropriate time!

— Donald J. Trump (@realDonaldTrump) January 3, 2018
Iran has been roiled by nationwide riots after Mr. Trump pulled out of an international nuclear deal first brokered in 2015 by then-president Barack Obama.
Iran has faced mounting economic woes since Mr. Trump's withdrawal announcement, with inflation rising sharply.
Its currency has plunged almost 50 percent in value in the past six months against the U.S. dollar, prompting a rare strike earlier this month by traders in Tehran's Grand Bazaar.
There have also been reports of brief scuffles and small-scale protests in recent weeks in the capital Tehran.