Picture: The Siberian Times
Spectacular ice show attracts mesmerised crowds of onlookers in Surgut as world's 7th longest river defies spring.
By The Siberian Times
By this time of year, boats are usually plying the ice-free Ob, but in 2018, while the winter covering the river has begun to move like a giant monster – but it has not cleared.
Far from it.
Here the thick ice is slowly drifting downstream in a northerly direction towards the Arctic yet with temperatures still of an unseasonal -5C, this could go on a while.
As our remarkable videos show, this is an awesome and eerie sight, magnetic to those lucky enough to be in the vicinity.
In Surgut, people come here before work just to glimpse the natural wonder, and listen to the gentle creaking and cracking of the shifting ice.
Then they come back again after work.
'If you fail to go and watch the Ob River, the Ob will come to you!' Video: O,Surgut!
'Sometimes it sounds like a rustle,' said Anya, an enthusiastic Ob-watcher. 'Then you hear a rumble as the ice breaks. Often it is a calm silence.'
At one moment this week, ice from the Ob literally broke out of the river from the sheer force of this natural annual pilgrimage to the direction of the end of the world (the Ob flows up the eastern coast of Yamal, a gas-rich peninsula the name of which literally means the 'end of the world').
It smashed the railings in Surgut with its phenomenal power.
It was as if a column of ice was making an escape bid from the mighty Ob, intent on invading this famous oil city.
Or as a local newspaper put it: 'If you fail to go and watch the Ob River, the Ob will come to you!'
Not all cities on Siberia's major rivers are so lucky with such sights.
Upstream on the Ob, Novosibirsk  – the largest metropolis in Russia between Moscow and the Pacific – does not get such spectacular scenes because of a dam which tempers the water so that, although it freezes, the ice is not as thick as elsewhere.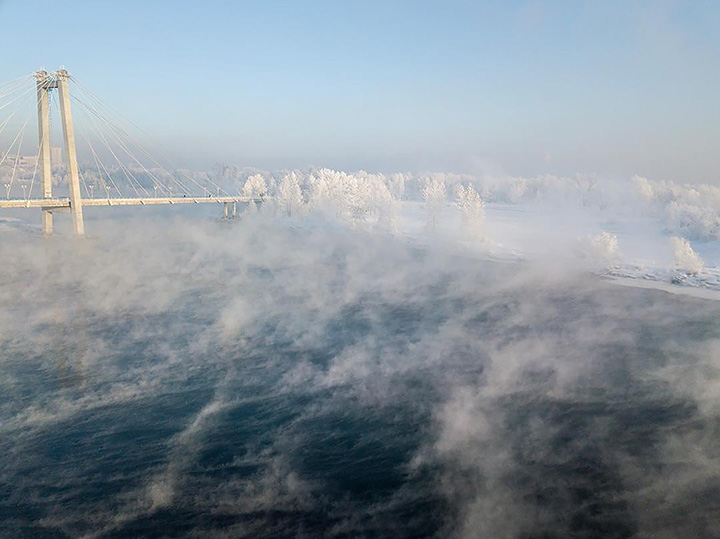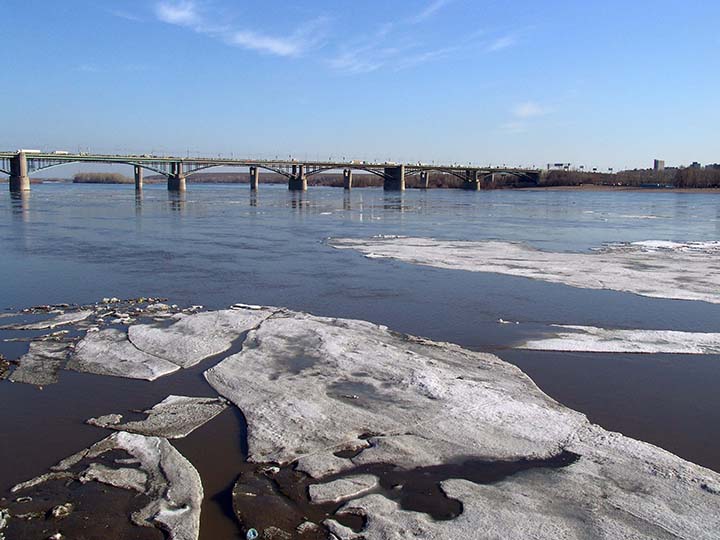 Yenisei in winter. Ice drift in Novosibirsk. Pictures: Roman Soldatov, The Siberian Times
Similarly, in Krasnoyarsk the impact of a hydro-electric plant and huge dam on the Yenisei River – the world's fifth longest including its tributaries – acts to take the chill out of the water.
So much so it doesn't even freeze.
The ice is closely monitored by the authorities because if it gets trapped and clogs the rivers as the melt starts and floes move downstream, a frozen dam is formed.
Then flooding hits riverside settlements.
Explosives are regularly used to avoid such circumstances, but as we have seen this week on the Lena River – the planet's 11th longest – even 17 tons of TNT is not enough.
For now, though, the folks of Surgut astride the Ob are the lucky ones.