© Russian Presidential Press Office
Vladimir Putin unveiled an ambitious vision for Russia for his new six-year term – including rapid economic growth, a rise in life expectancy, and a drop in inequality – hours after his inauguration.
Titled "National ideas and strategic aims for the development of the Russian Federation by 2024" the 17-point decree, "in force as of today," touches on dozens of areas from mortgages, to road safety, and the creation of a national youth orchestra. Here are the highlights…
Joining the big five
According to the document, Russia is to become one of the world's five biggest economies, maintaining GDP growth above the global average, while retaining macroeconomic stability.
READ MORE: Russia needs to become less oil-dependent in next 6 years – Putin
Measured by nominal GDP, Russia is outside the top 10 biggest economies, and would have to produce near double-digit growth to catch up in the next six years. However, using purchasing power parity GDP, which is a better measure of the real value of the economy, Russia sits in sixth place, just behind Germany, so the target is not unrealistic, and hitting it would help halve poverty, another stated aim in Putin's plan.
Outpacing world GDP growth will be a harder task. The world economy grew by 3.5 percent last year, while Russia's expanded by 1.5 and is expected to trend under the global average again this year.
Increasing life expectancy to 78
According to last year's stats, Russians' life expectancy hit an all-time high in 2017, reaching nearly 73. Female life expectancy is already over 78, a respectable number for a country of Russia's economic means. Achieving the new target will require reducing one of the greatest gender mortality disparities in the world, which sees the country's men die, on average, a decade younger than the women.
Ensuring 'steady population growth'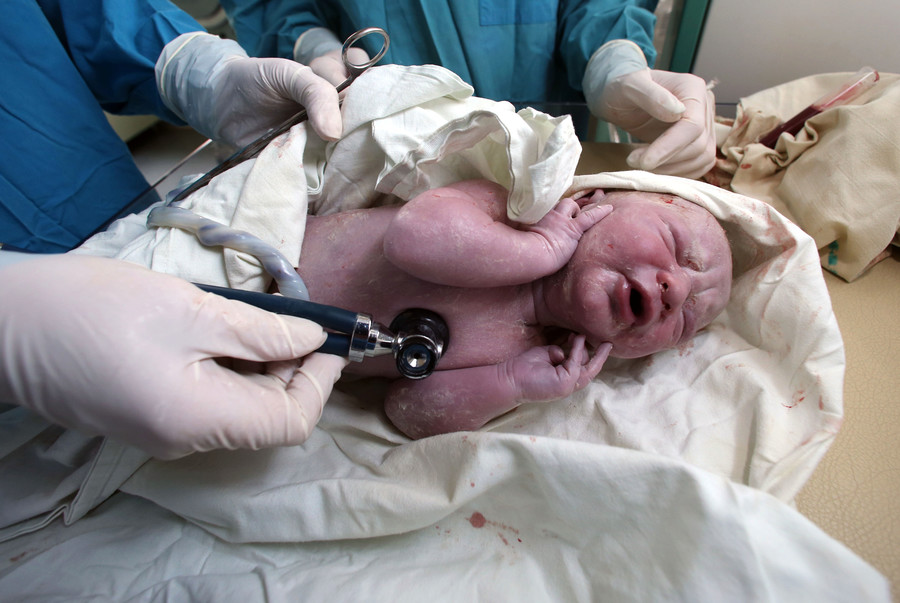 Russia's population has rebounded from its 2009 low of fewer than 142 million to nearly 147 million last year, partly thanks to the addition of 2 million Crimean residents.
The target will involve boosting the birth rate to 1.7 – a number exceeded just two years ago – through financial incentives for new parents, better health provision, and better employment prospects for working mothers.
As with the previous aim, the other part of this objective will come through reducing mortality, not least through encouraging Russians to live a healthier, more active lifestyle.
Improving housing for millions
According to the decree, five million households per year can expect to see their living conditions improve. To this end, 120 million square meters of housing are to be built each year – the equivalent of 1800 Versailles palaces.
READ MORE: Putin prioritizes economic breakthrough, quality of life in swearing-in speech
While mortgages, a concept virtually unknown in the Soviet Union, are becoming more common, the government wants them to become the driver of the housing revolution, with loans given out at no more than 8 percent interest per year, in line with the reduced rate of inflation.
Making Russia more liveable
The vision sets out an expansion by five million hectares of protected environmental areas, a reintroduction of species to boost biodiversity, and the safeguarding of long-troubled natural treasures, such as Lake Baikal, which continues to suffer from industrial and tourism-related pollution.
But the plan for cities, which are often plagued with the legacy of heavy Soviet industries, is even more radical, with cleaner air initiatives and intentions to remove unsanctioned rubbish dumps that have become headline news over the past year. Putin has also proposed improving the quality of drinking water, using "experimental military technologies", a pressing everyday issue in a country where tap water is still not recommended for consumption in many places.
A departure from previous approaches is the suggestion that, instead of top-down paternalistic decision-making, 30 percent of local residents should now be regularly involved in putting forward, voting for and implementing measures to make their cities more habitable, the document recommends.
……
RUSSIA'S TSAR 
Vladimir Putin sworn in as president against backdrop of protests… making him longest serving Russian leader since Stalin
Russia's strongman ruler has taken the oath of office for his fourth term as president, in a ceremony in an ornate Kremlin hall glimmering with gold leaf.
VLADIMIR Putin has been sworn in for another six years as Russian president making him the longest serving ruler since Joseph Stalin.
The former KGB man was inaugurated for his fourth term, two months after more than 70 per cent of voters backed him in an election in which he had no serious challengers.
Putin effectively has been the leader of Russia for all of the 21st century.
He stepped down from the presidency in 2008 because of term limits, but was named prime minister and continued to steer the country until he returned as president in 2012.
State-run TV filmed him standing in the Grand Kremlin Palace's ornately-decorated Andreyevsky Hall with his hand on a gold-embossed copy of the constitution.
He then swore to serve the Russian people, safeguard their rights and freedoms, and defend Russian sovereignty.
AFP  Putin strides into the Great Hall ready to swear an oath to his country
EPA  Honour guard soldiers carry the Constitution ready for the swearing in
REUTERS  Goose-stepping guards of honour carry the Russian Federation flag
GETTY – CONTRIBUTOR Ramzan Kadyrov, head of Russia's Chechen Republic, was a guest at the ceremony
GETTY – CONTRIBUTOR Putin is determined to see out his vision of Russia restored to its former super-power glory
REUTERS Putin's Russian-made limousine, part of the Cortege project, ferried him to the inauguration
As Putin begins his fourth term, his image is everywhere at home and he effectively Russia's "brand" worldwide.
A fixture on state television, Putin pops up daily doling out orders to officials, meeting workers and visiting heads of state, surveying new medical, aerospace and defence plants.
The hard-boiled leader is often shown relaxing in more casual setting such as playing hockey, skiing or fishing in the wilderness.
REUTERS The ceremony was given blanked coverage across the country on the state-run television
At Sheremetyevo International Airport and souvenir stands throughout Moscow, Putin's sober, stern visage gazes out from T-shirts, mugs, matryoshka nesting dolls and refrigerator magnets.
Analysts say Putin's portrayal is subtly shifting.
"Putin has started to shift from the image of the fighter and a miracle-maker to the image of a considered man and the leader of a young team," says Yevgeny Minchenko, a Moscow-based political consultant.
"He's now a wise ruler, who doesn't go solving the issues at hand, but he sets a strategic course and appoints talented young people who are able to implement this course."
REUTERS For many Russians, Putin represents stability after the chaos that ensued after the collapse of the Soviet Union
AP: ASSOCIATED PRESS Putin's image is plastered everywhere as part of a 'cult of a personality' style of leadership rebooted for the 21st century
A man holds up a sweatshirt bearing an image of Putin at GUM (the State Department Store) in Moscow
His most dangerous opponent, Alexei Navalny, was barred from running in that vote. On Saturday Navalny and hundreds of his supporters were detained by police while protesting over Putin's new term under the slogan: "Putin is not our tsar."
Putin, who is 65, embarks on his fourth term in office buoyed by widespread popular support but weighed down by a costly confrontation with the West, a fragile economy and uncertainty about what happens when his term ends.