A Saudi Arabian prince, Mansour bin Muqrin, has been killed along with several other officials in a helicopter crash the near the country's border with Yemen, local media reported.
A helicopter, with a group of Saudi officials on an inspection trip, crashed in the Asir Region in the country's southwest, reports said.
عاجل:
.
وفاة الأمير منصور بن مقرن نائب عسير وعدد من المسؤولين الكبار بعد #سقوط_طائرة_مروحية_عسير أثناء عملهم.
.#وفاة_منصور_بن_مقرن_ومرافقيه pic.twitter.com/aQaA3fNFip

— أخبار السعودية (@SaudiNews50) November 5, 2017
The prince was serving as deputy governor of the southern province of Asir. He was a son of Muqrin bin Abdulaziz Al Saud, who briefly was Saudi Arabia's crown prince from January to April 2015.
فيديو ..
.
العثور على حطام الطائرة التي تحطمت بالأمير منصور بن مقرن .
.#تحطم_طايره_مروحيه_عسير #وفاة_منصور_بن_مقرن_ومرافقيه
. pic.twitter.com/ScY8XacGGe

— أخبار السعودية (@SaudiNews50) November 5, 2017
The bodies of the deceased officials have been recovered, SaudiNews50 reported late Sunday, after posting a video of the recovery efforts.
Eight people were on board the helicopter, including the Undersecretary and the Secretary of the Asir Region, Al-Arabiya reported, citing sources. None are believed to have survived the crash.
The incident occurred as the officials were on their way back from an inspection trip to al-Saida al-Sawalha Center in the municipality of Mahail Asir, it added. A video, believed to be the last one of Prince Mansour alive, was released by the channel, showing him and accompanying officials boarding the helicopter.
The ruling Saud family were recently thrust into the spotlight in connection with a wide-ranging crackdown on corruption, unleashed Saturday by the new all-powerful anti-corruption committee led by Crown Prince Salman. Hours after it was established, the committee ordered the detention of 11 princes and four ministers, as well as a number of former ministers. Among those arrested are Minister of the National Guard Prince Miteb bin Abdullah and Economy Minister Adel Fakeih, both sacked by Saudi King Salman bin Abdulaziz Al Saud the same day. Another high-profile target of the corruption purge is billionaire prince Al-Waleed bin Talal, nicknamed the "Arabian Warren Buffet" for his investment skills. According to Forbes, the prince tops the list the Middle East's richest with a net worth of some $18.7 billion.
Asir Region is located in the southwest of the country, bordering Yemen. The area has seen a number of cross-border retaliatory attacks from Yemen in recent months, reportedly leading to casualties among Saudi troops.
Saudi Arabia has been embroiled in the Yemeni conflict since March 2015 on behalf of ousted Yemeni President Mansour Hadi and against the Shi'ite Houthi rebels.
Related
11 Saudi princes, 4 ministers arrested as crown prince unleashes crackdown on corruption – report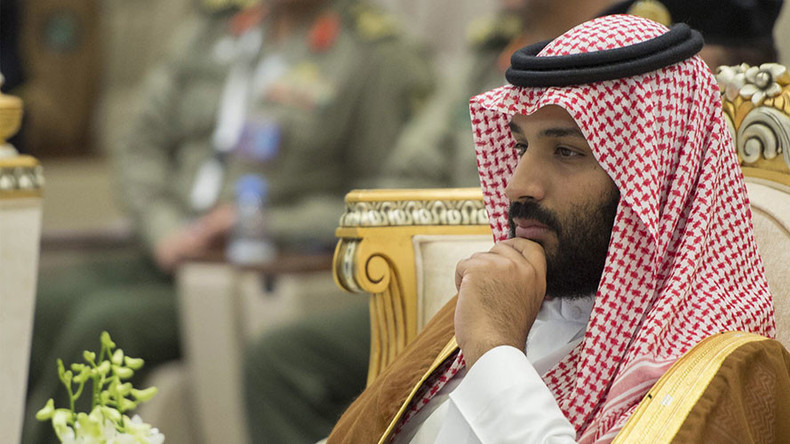 Saudi's Crown Prince Mohammed bin Salman © Bandar Al-Jaloud / AFP
Saudi Arabia has ordered the arrest of at least 11 Saudi princes and four incumbent ministers of the Saudi government, Al-Arabiya reported, citing sources. Among those detained are the minister of the National Guard and the minister of economy.
A new anti-corruption committee chaired by Crown Prince Mohammed bin Salman was created late Saturday by royal decree of King Salman bin Abdulaziz Al Saud, published by Saudi Arabia's official news agency on Saturday.
The decree appoints the crown prince, Mohammed bin Salman, to lead the committee, granting it broad powers to fight corruption. The committee is exempted from "laws, regulations, instructions, orders and decision" while performing its wide range of duties, namely "identifying offenses, crimes, persons and entities" complicit in corruption, and gives it the power to impose punitive measures on those caught red-handed. Those include asset freezes, travel bans and arrests.
The committee made its first arrests hours after it was created, detaining 11 princes, four current ministers as well as "tens" of ex-ministers of the Saudi government in connection with newly opened corruption probes, Al-Arabiya reported.
Minister of the National Guard Prince Miteb bin Abdullah and Economy Minister Adel Fakeih are among those arrested, Al Arabiya cited a senior Saudi official as saying, on condition of anonymity. Alwaleed al-Ibrahim, owner of television network MBC, was also detained.
Dozens of former ministers were arrested by the Crown Prince committee, including a former governor of Riyadh province, former finance minister, and former chief of the Royal Court.
The committee said it is relaunching a probe into the devastating floods that killed over 120 people in the city of Jeddah in 2009, while inflicting millions in property damage. In wake of the wide-ranging investigation, concluded in December 2014, the Saudi court found 45 people guilty, including senior officials, on charges of bribery, misuse of power and public funds, money laundering and illicit business operations.
Another high-profile case resumed by the anti-corruption committee is the investigation into the outbreak of the so-called Middle East Respiratory Syndrome (MERS) virus in Saudi Arabia in 2014, which resulted in nearly 300 deaths and the ouster of the country's health minister.
Most senior Saudi officials in charge of state oversight, investigation and prosecution will sit on the committee, which will comprise the attorney general and the heads of state security, anti-corruption authority, audit bureau, and the chair of the monitoring and investigation commission.
"In view of what we have noticed of exploitation by some of the weak souls who have put their own interests above the public interest, in order to illicitly accrue money," the Saudi King said in a statement, explaining the need to form the body.
Crown Prince Salman, appointed the heir of the Saudi throne in June, is known for his reform-minded views. The prince, who held a number of key government positions even before his elevation, is said to be behind a series of the latest domestic reforms in the ultra-conservative country, loosening a grip on the state's strict social laws.
In one of the latest policy moves, the Saudi government lifted a ban on women driving. Crown Prince Salman reportedly spearheaded the milestone policy change, persuading his father, the king, to review the restriction. Earlier, women in Saudi Arabia were also permitted to use state services without male guardians.
The prince hinted last month that he would not stop at that, promising a return from hardline interpretation of the religion to what he described as "moderate Islam," while vowing to eradicate extremist beliefs inside the country.
……………………
Saudi Arabia plans to build $500bn high tech mega city 33 times bigger than NY
Saudi Crown Prince Mohammed bin Salman © Hamad I Mohammed / Reuters
Saudi Arabia has announced plans to build a new mega-city across its borders with Jordan and Egypt which will be entirely powered by renewable energy.
The city, which has been named NEOM, will be built from the ground up on a massive greenfield site in northwest Saudi Arabia. It will span over 26,500 square kilometers, an area more than 33 times bigger than New York City. The city already has its own Twitter account and website.
"The difference between now and what we aspire for #NEOM is like the difference between these two phones." – HRH Crown Prince #discoverneom pic.twitter.com/DskZMdnyQQ

— NEOM (@discoverneom) October 24, 2017
Saudi Crown Prince Mohammed bin Salman said the city will focus on industries including energy and water, biotechnology, food, advanced manufacturing and entertainment.
It will be backed by more than $500 billion by the Kingdom of Saudi Arabia, the Public Investment Fund of Saudi Arabia (PIF) – the kingdom's largest sovereign fund – and other local and international investors.
"NEOM is situated on one of the world's most prominent economic arteries, through which nearly a tenth of the world's trade flows," PIF said in a press release.
"Its strategic location will also facilitate the zone's rapid emergence as a global hub that connects Asia, Europe and Africa, enabling 70% of the world's population to reach it in under eight hours."
In a major departure for the oil rich nation, NEOM will be powered entirely using wind and solar energy. All services in the city will be fully automated with repetitive and arduous tasks being entirely handled by robots.
PIF say the city will likely have the highest GDP per capita in the world. It also said NEOM will have a mild temperature because of a constant breeze coming in off the sea.
"All of this will allow for a new way of life to emerge that takes into account the ambitions and outlooks of humankind paired with best future technologies and outstanding economic prospects," the Crown Prince said.
The announcement came on the same day that the Crown Prince announced that Saudi Arabia, which is known for its ultra conservative rule, is moving to a more "moderate" form of Islam that is open to all religions.
……………………
Several of Top Saudi Officials Arrested Over Weekend Are Linked to Podesta Group
On Sunday the Saudi Kingdom arrested dozens of princes, senior military officers, businessmen and top officials, including a well-known royal billionaire with extensive holdings in Western companies. The regime said it was part of a sweeping anti-corruption probe.
Vocal Trump critic and Clinton donor Prince Alwaleed bin Talal was arrested in the sweep.
Big…One of the world's richest men, a vocal Trump critic, and member of the Saudi Royal family has been arrested https://t.co/91kGtssIkJ

— Yashar Ali ? (@yashar) November 4, 2017
Victory of Light posted a list of the top Saudi officials arrested this weekend.
List of Saudis arrested so far in the ongoing purge. pic.twitter.com/G2qJXIenUq

— VictoryOfTheLight (@KibBitzLaw) November 5, 2017
Now this…
Several of these top Saudi officials are linked to the Podesta Group.
Wouldn't it be awkward if anyone arrested in #Saudi were linked to the massive lobbying #Podesta does for #Saudi ? pic.twitter.com/00miqjZI7o

— Rosie Unmasked (@almostjingo) November 5, 2017