Tommy Robinson thought his nightmare was over when he was released from prison in early August. He was wrong. After winning his court appeal, British authorities still want him back in jail. He is scheduled to appear back in court at the end of August, less than a month after he was released.
BACKGROUND
Robinson made headlines around the world when he was sentenced to 13 months in jail for filming on the street outside a court where so-called Muslim grooming gangs were being trialed. Many people were outraged by what they perceived as the totalitarian path upon which the UK had embarked and protests were organized across the world.
After spending nearly three months in jail, an appeal court overturned the sentence, due to procedural errors. He was released on bail on the sole condition that he would show up at his next hearing.
Normally this would mean that Robinson would remain a free man for quite a long time. The British court system is notorious for being slow with a long backlog. It takes months, often years for people to appear before a court.
However, someone went to great lengths to prioritize Robinson's case. In an almost unheard-of efficiency and swiftness in the British court system, he was summoned to appear in less than a month after he was released.
CRUEL AND UNUSUAL PUNISHMENT
During the short time he spent in jail, Robinson was placed in solitary confinement with restricted access to food. In only two months, he lost 40 pounds of weight. In addition to physical health problems, he also developed signs of post-traumatic stress due to constant threats by Islamic inmates, who passed by his cell.
Robinson came out in far worse physical and mental shape after only a brief time in a British prison than terrorists who have spent years in Guantanamo Bay, a place that has been criticized for torture and cruel and unusual punishment. Terrorists and prisoners of war are treated better than Robinson.
The evidence suggests that this mistreatment was intentional, and the fact that his re-trial appears to be hastened suggests that his tormentors do not wish him to recover physically or mentally before he once more is subjected to solitary confinement.
SAVE TOMMY
Rebel Media was instrumental in raising money for Robinson's court appeal. Now it seems that he needs monetary support again for his re-trial. Ezra Levant has set up a page for donations to combat the politically motivated charges against Robinson.
LESSONS TO BE LEARNED
Tommy Robinson is a working-class man. He is not dumb, but he does not command the sophisticated language of the educated classes and elites. However, the crux of the issue is that he is being punished for their failures. Cognitive elites tend to rise to the top of hierarchies because they are often better at finding good and efficient solutions. When they fail due to incompetence or arrogance, the working class tries their solutions instead.
Those solutions often have rougher edges and are less eloquent. The elites can at any time choose to avoid such actions by simply acting responsibly. They have failed to do so and have instead embarked on a social experiment of multiculturalism that is creating strife and conflict at every corner. They are to blame, but instead of taking responsibility, they blame the likes of Tommy Robinson.
Instagram reinstates Tommy Robinson's deleted account
Company understood to have removed page in error after moderator decided it broke community guidelines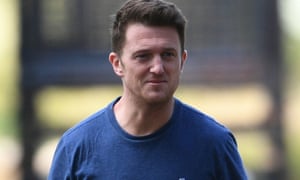 Tommy Robinson told his Facebook followers: 'Facebook will soon close us down.' Photograph: Joe Giddens/PA
Instagram has reinstated Tommy Robinson's account and said it was deleted in error, amid a growing debate on whether far-right activists should continue to have their content hosted by major social media companies.
Robinson had held up the suspension of his account on the Facebook-owned photo-sharing service as evidence that major corporations were censoring his output. The suspension came the day after most major social media platforms decided to ban the US conspiracy theorist Alex Jones and his InfoWars site from their networks.
"They have now deleted my Instagram account. Facebook will soon close us down," Robinson, who has just been released from prison, told his Facebook followers.
He also posted a mobile phone screengrab showing an Instagram page in the name of "realtommyrobinson", with a banner message saying: "User not found."
However, Instagram reinstated the account on Tuesday afternoon after concluding it did not breach its guidelines. A spokesperson for the company said: "The account @realtommyrobinson was removed in error and has since been reactivated."
The account was reported by a member of the public for violating Instagram's community guidelines regarding bullying. One of Instagram's moderation team decided it broke the rules and suspended the account, unwittingly putting themselves in the middle of a major culture clash over the limits of free speech.
Robinson, whose real name is Stephen Yaxley-Lennon, led a protest in central London in May after he was banned from Twitter for breaching the site's rules on hateful content. However, he remains active on Facebook and other major social media platforms, and benefits from cheerleaders elsewhere in the media.
Instagram's decision to reinstate his account will focus further attention on whether the likes of Facebook and Google-owned YouTube are happy to distribute Robinson's anti-Islam material and where they draw the line on hate speech – especially after the decision to ban Jones and InfoWars.
Earlier this year, Facebook removed the official page of the far-right group Britain First, as well as those of its leaders Paul Golding and Jayda Fransen, in what the social network said was a response to repeated violations of its rules.
Robinson is an intermittent user of Instagram and has posted 47 times. His uploads include pictures of him filming interviews with other far-right activists, photos of his children, and one of him at a Luton Town football match with the co-founder of Vice magazine.
He was freed from prison last Wednesday after three judges in London quashed a contempt of court finding made against him at Leeds crown court in May. They granted him conditional bail from a 13-month jail sentence, pending new proceedings at the Old Bailey.
He had been held at Onley jail near Rugby after receiving a 13-month sentence for breaching reporting restrictions at Leeds and Canterbury crown courts by broadcasting a Facebook live stream in which he taunted defendants entering court.
There is a chance that he could again be jailed over the allegations.
After founding the English Defence League, an anti-Islam movement, in 2009, Robinson has in recent years again become a figurehead for Britain's far right. His videos on Facebook and YouTube have been watched millions of times and more than 630,000 people signed an online petition calling for his freedom that was translated into French, Spanish, Dutch, Italian, Polish, Czech and Russian.
The Middle East Forum, a rightwing American thinktank, said it spent a five-figure sum on Robinson's defence. A number of other rightwing groups were also said to have contributed.