Image: Jim Varney
The "greens" are a special kind of stupid!
Story from NOT A LOT OF PEOPLE KNOW THAT
First tanker crosses northern sea route without ice breaker (Because it is one anyway!)
h/ts Joe Public/Philip Bratby
A commercial LNG tanker has sailed across the colder, northern route from Europe to Asia without the protection of an ice-breaker for the first time.
The specially-built ship completed the crossing in just six-and-a-half days setting a new record, according to the tanker's Russian owners.
The 300-metre-long Sovcomflot ship, the Christophe de Margerie, was carrying gas from Norway to South Korea.
Rising Arctic temperatures are boosting commercial shipping across this route.
http://www.bbc.co.uk/news/science-environment-41037071
There is only one slight problem – the newly built tanker is actually an icebreaker itself, as Matt McGrath goes on to elaborate:
The Christophe de Margerie is the world's first and, at present, only ice-breaking LNG carrier.
The ship, which features a lightweight steel reinforced hull, is the largest commercial ship to receive Arc7 certification, which means it is capable of travelling through ice up to 2.1m thick.
On this trip it was able to keep up an average speed of 14 knots despite sailing through ice that was over one metre thick in places.
Popular Science has more details on the project to build another 15 of these icebreaking tankers:
There's a lucrative shipping route between Europe and Asia that has the potential to cut thousands of miles and months of time off the trip. The only catch: it's covered with thick, ship-sinking Arctic ice.
Heavy ice blocks the Arctic route from December to July, more than half the year. Even with icebreaking escort ships, few merchant vessels run it.
Now, Daewoo Shipbuilding and Marine Engineering is building the world's first icebreaker tankers–16 of them–to carry liquid natural gas (LNG) through the route year-round. LNG tankers today have to be escorted by icebreaking ships that clear the way through the Northern Sea Route.
The Yamal LNG project, run by companies in Russia, France, and China, proposes drilling more than 200 wells in the Arctic to produce 16.5 million tons of LNG per year, supported by Daewoo's first 16 Arc7 tankers. Year-round, Yamal LNG will ship LNG from the project's Sabetta port in Russia's Yamal Peninsula westward to Europe, South America, India, China, and South Korea. For the warmer half of the year, it'll also ship east from Sabetta to Japan and South Korea.
As Russia leans more heavily on fuel exports and the prices for them drip lower and lower, a dormant 17th-century Russian ambition is coming back to life: to open the Arctic year-round.
http://www.popsci.com/worlds-first-ice-breaking-tanker-ships-open-arctic-route#page-2
French oil company Total, who are involved in the Yamal project also have this:
To transport Liquefied Natural Gas from Yamal LNG, which is located in the Arctic and constitutes one of the world's biggest LNG projects, Total and its partners have designed a new type of ship: an LNG ice-breaker. This innovative solution allows large shipments of LNG to be transported efficiently and at a steady pace throughout the year and without the assistance of ice-breakers. The ship, which is 300 metres long and has a capacity of 172,600 m3, can sail in temperatures that fall as low as -52°C and in ice thickness up to 2.1 metres. Between December 2016 and 2019, 15 LNG ice-breakers will be commissioned. In this article, we delve into this technological microcosm.
http://www.ep.total.com/en/expertises/liquefied-natural-gas/lng-ice-breaker-first-shipment-liquefied-natural-gas
The tankers are certified as Arc7, which is the Russian system of classifying ice breakers and ice strengthened ships. The classification goes up to Arc9 for the strongest ships.
So the fact that the Christophe de Margerie has just made this trip has nothing at all to do with global warming.
It is however a reminder that the French, along with Russia and China, will carry on developing oil and gas reserves, regardless of whatever was agreed at Paris.
Global Warming Causes Russians To Build £234 Million Icebreaker
Russians spend £234 million building an icebreaker that can carry oil, and the fake news attributes it to global warming.
Russian tanker powers through Arctic without an icebreaker excort

the £234 million tanker does have its own inbuilt icebreaker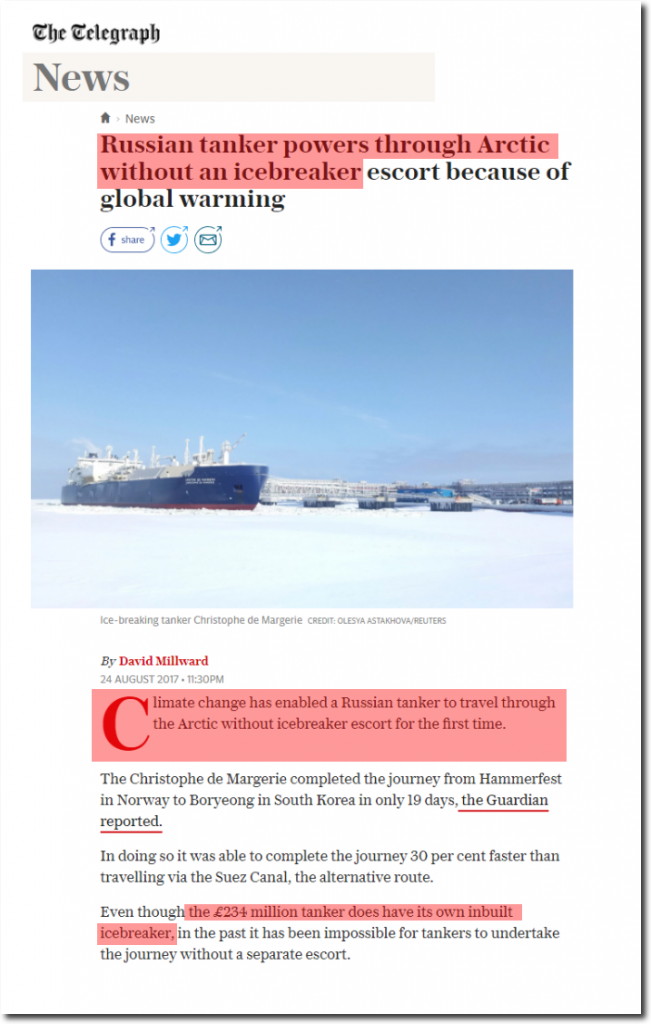 Russian tanker powers through Arctic without an icebreaker escort because of global warming
Why would an icebreaker be escorted by an icebreaker? You really can't make up the level of stupid dishonesty on display by the criminals in the fake news press.