The Problem Of Muslim Inbreeding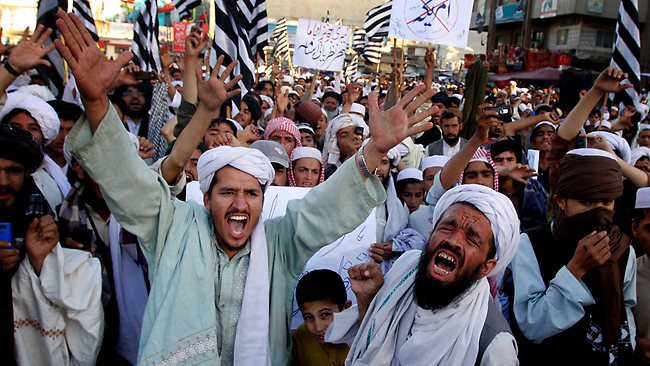 Muslim inbreeding is now a worldwide problem.
Here's an explanation for Islamic terrorism that's never suggested. A never-spoken-about problem with Muslims is their inbreeding as a result of their long and deeply ingrained practice of marrying first cousins — a practice that has been prohibited in the Judeo-Christian tradition since the days of Moses.
With the unbridled immigration from Muslim countries to the West increasing, an age-old problem emerged anew. Chronic inbreeding among Muslim populations is now our problem.
Given the new wave of Muslim attacks in Europe, it is worth revisiting a 2010 report by Nicolai Sennels. His investigation, published on PJ Media, has some difficult truths to admit. They may not be politically correct, but they are facts nevertheless.
First, it is important to realize why Muslim inbreeding is even acceptable in Islam.
Massive inbreeding among Muslims has been going on since their prophet allowed first-cousin marriages more than 50 generations (1,400 years) ago. For many Muslims, therefore, intermarriage is regarded as being part of their religion. In many Muslim communities, it is a source of social status to marry one's daughter or son to his or her cousin. Intermarriage also ensures that wealth is kept within the family. Islam's strict authoritarianism plays a large role as well: keeping daughters and sons close gives families more power to control and decide their choices and lifestyles.
Muslim Inbreeding has now affected most of the Islamic population.
Today, 70 percent of all Pakistanis are inbred and in Turkey the amount is between 25-30 percent (Jyllands-Posten, 27/2 2009 "More stillbirths among immigrants"). A rough estimate reveals that close to half of everybody living in the Arab world is inbred. A large percentage of the parents that are blood related come from families where intermarriage has been a tradition for generations.

A BBC investigation in Britain several years ago revealed that at least 55% of the Pakistani community in Britain was married to a first cousin. The Times of India affirmed that "this is thought to be linked to the probability that a British Pakistani family is at least 13 times more likely than the general population to have children with recessive genetic disorders."

The BBC's research also discovered that while British Pakistanis accounted for just 3.4% of all births in Britain, they accounted for 30% of all British children with recessive disorders and a higher rate of infant mortality. It is not a surprise, therefore, that, in response to this evidence, a Labour Party MP has called for a ban on first-cousin marriage.

Medical evidence shows that one of the negative consequences of inbreeding is a 100 percent increase in the risk of stillbirths. One study comparing Norwegians and Pakistanis shows the risk that the child dies during labor increases by 50 percent. The risk of death due to autosomal recessive disorders — e.g., cystic fibrosis and spinal muscular atrophy — is 18 times higher. Risk of death due to malformations is 10 times higher. Mental health is also at risk: the probability of depression is higher in communities where consanguine marriages are also high. The closer the blood relative, the higher the risk of mental and physical retardation and schizophrenic illness.

And then there are the findings on intelligence. Research shows that if one's parents are cousins, intelligence goes down 10-16 IQ points. The risk of having an IQ lower than 70 (criterion for being "retarded") increases 400 percent among children from cousin marriages. An academic paper published in the Indian National Science Academy found that "the onset of various social profiles like visual fixation, social smile, sound seizures, oral expression and hand-grasping are significantly delayed among the new-born inbred babies." Another study found that Indian Muslim school boys whose parents were first cousins tested significantly lower than boys whose parents were unrelated in a non-verbal test on intelligence.

It is estimated that one third of all handicapped people in Copenhagen have a foreign background. Sixty four percent of school children in Denmark with Arabic parents are illiterate after 10 years in the Danish school system. The same study concludes that in reading ability, mathematics, and science, the pattern is the same: "The bilingual (largely Muslim) immigrants' skills are exceedingly poor compared to their Danish
classmates."

These problems within Islam bring many detriments to Western countries. Expenses related to mentally and physically handicapped Muslim immigrants, for instance, severely drain the budgets and resources of our societies. Look at Denmark, for example: one-third of the budget for the country's schools is spent on children with special needs. Muslim children are grossly over represented among these children. More than half of all children in schools for children with mental and physical handicaps in Copenhagen are foreigners — of whom Muslims are by far the largest group. One study concludes that "foreigners inbreeding costs our municipalities millions" because of the many handicapped children and adults.
…….
Effects of Centuries of Extreme Inbreeding Among Muslims: Low IQ, Violence and Terrorism
Taboo: Almost half of Muslims are inbred. How does that affect intelligence and health? And is there a connection to terrorism and violence?
By Nicolai Sennels, Psychologist
Lise Egholm, long time school leader in the Muslim dominated area of Nørrebro in Copenhagen, Denmark, recently warned against not talking about the widespread practise of inbreeding among Muslims: ""A study shows that infant mortality doubles along with a high risk of congenital malformations, also that increased birth defect rates and inheritance of recessive traits are more common in consanguineous marriages. I think it's time to express concern. We must talk about this problem. All parents want healthy children. Fortunately, we live in a society where our health system does much to ensure that a pregnancy ends with a viable child. What amazes me and has made me wonder for years is why we do not talk about, maybe they even ban, the many cousin marriages?"
While health systems in otherwise less developed countries in the Muslim world are openly discussing and warning against consanguineous marriages, it is considered politically incorrect in the West to problematize the vast genetic and societal problems resulting from this religious-cultural practise.
Prevalence
Statistical research on Arabic countries shows that up to 34 percent of all marriages in Algiers are consanguineous (cousin marriages), 46 percent in Bahrain, 33 percent in Egypt, 80 percent in Nubia (southern area in Egypt), 60 percent in Iraq, 64 percent in Jordan, 64 percent in Kuwait, 42 percent in Lebanon, 48 percent in Libya, 47 percent in Mauritania, 54 percent in Qatar, 67 percent in Saudi Arabia, 63 percent in Sudan, 40 percent in Syria, 39 percent in Tunisia, 54 percent in the United Arabic Emirates and 45 percent in Yemen (Reproductive Health Journal, 2009 Consanguinity and reproductive health among Arabs.). In Pakistan 70 percent of marriages are consanguineous and in Turkey the percentage is 25-30. There seems to be no national data on Indonesia, but there are reports on 17 percent consanguinity on East Timor and a "high level of consanguineous marriages in some areas of Java."
Except for a few exceptions like Indonesia and Albania, roughly half of the population in the Islamic world is inbred, in most cases for generations.
Religion
The reason is partly religious. Muhammed himself married his cousin and according to the Quran, Allah allows sexual relationships between cousins (Quran 4:23-24).
According to Islamic law, Sharia, family honor is dependent upon the ability to control family members, which is another reason for keeping daughters inside their own blood-related family when marrying.
Sharia law's extreme restrictions on women's freedom of movement and contact with men probably also makes it more natural to marry one of the few men they are actually allowed to interact with.
Health and intelligence
A long list of mental and physical complications are related to inbreeding between cousins. These include an increased risk of depression, schizophrenia, and mental retardation. Mental retardation (less than an IQ of 69)
in children of consanguineous marriages is five times more frequent than in normal marriages. On average, cousin marriages results in children with 10-16 points lower IQ. Social abilities, including empathy, are also less developed with inbred people.
The cognitive consequences of Muslim inbreeding might explain why non-Western immigrants are more than 300 percent more likely to fail the Danish army's intelligence test than native Danes. When it comes to the production of scientific work, the Islamic world produces less than 1/10 of the world average. Low average intelligence in the population and prioritizing faith over knowledge may also be the reason why fewer books have been translated into Arabic over the last 1,000 years than there are books translated in Spain every year.
On top of these mental complications comes the increased risk of many diseases related to genetic disorders leading to severe syndromes, handicaps, painful diseases, and decreased life expectancy.
Terror and violence
According to the Danish police, cousin-marriage is a cause for criminal behaviour because of low intelligence. This claim is confirmed by criminology research that long has established a connection between violent criminal behaviour and low intelligence.
It is also likely, that it is easier to convince people with low intelligence to follow the Islamic scriptures' hundreds of invitations and direct orders to harm, terrorize and wage war against people – including fellow Muslims, even family members – who do not following a literal interpretation of those scriptures.
Another link between Muslim inbreeding and terror concerns handicaps and mental diseases. Yusuf Yadgari of the Medical University of Kabul has autopsied the remains of suicide bombers and his findings support this theory. Yadgari found that close to ninety percent were suffering from severe illness such as blindness, cancer, missing limbs or leprosy. Many Muslim societies, including that of Afghanistan, have a low social acceptance of handicaps and severe illnesses. According to Yadgari, being physically handicapped or mentally retarded often leads to exclusion in a society like Afghanistan, and becoming a martyr might be the only chance of achieving social recognition and honour — if not just a way to end the pain of being socially isolated (which is especially traumatizing in collectivist cultures like Islam). Al Qaida's use of people with Down's syndrome to commit terrorist attacks might be another unpleasant side effect of the many chromosomal illnesses that result from inbreeding between first cousins.
Ban cousin marriages?
A ban on consanguineous marriages is a win-win policy.
It will save million of future children and their families from suffering. School leader Lise Egholm gives an example:
"One second grade class had a reading test. Fortunately most children did very well. However, a small Turkish boy only had two correct answers out of 40. The teacher was very concerned and asked me to attend the a meeting with the mother. I looked at the student card and wondered that the family apparently only had one child. The mother said there had been three, but two died as infants because 'we have bad blood'. She explained that her husband was her cousin, his parents were cousins ​​and her own parents were blood related too. She also said, 'You can not teach my boy much, but it's good that he lives.' Soon after he was referred to a special school. This mother also told me that it was the men who were stupid because they want that 'we marry our cousin, so we get bigger pieces of land, but they do not understand what we women know: that it is dangerous for the children if their parents are blood related.' These two examples are from Turkish families, but I have encountered similar problems with Pakistani people and in Arab-speaking families."
On top of these issues, tax payers would save billions from not having to handle the many costly societal challenges related to consanguineous marriage. Integrating into advanced cultures with our high-tech work market is not easy with an IQ of 75 and decreased social abilities.
Finally, it is likely that such a ban would decrease the amount of violence in our countries.
Similar benefits would come from banning migrants with consanguineous background who apply for residence.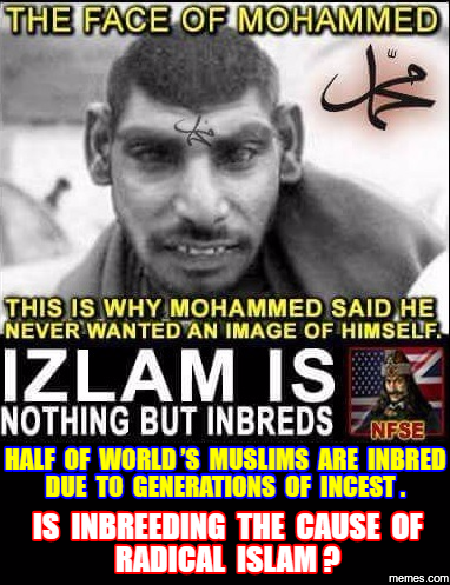 Muslim Inbreeding Dragging Britain Back To The 19th Century
Britain is seeing an alarming spike in birth defects, defects they have not seen since the end of the 19th century. There is a one-word explanation: Islam.
The resurgence of these birth defects is due to the prevalence of first cousin marriages in the Muslim community, particularly among immigrants from Pakistan. Such marriages are legal in Britain, to be sure, but by the late 1800s the risk of birth defects in the children of such unions had become so common and so widely known that the practice virtually vanished. (First cousin marriages, which are not specifically banned in Scripture, are illegal in about half the states in the U.S., which is the only country in which such marriages are prohibited anywhere.)
An article in the London Telegraph (which doesn't use the word "Islam" anywhere in the article, and waits til the 12th paragraph to mention the word "Pakistani") opens this way (emphasis mine):
Bradford coroner Mark Hinchliffe spoke out after being told how two-year-old Hamza Rehman died as a result of a brain disorder.
An inquest heard how the child suffered from daily fits and vomiting as a result of a condition probably arising from his parents being too closely related.
The boy's father, Abdul, broke down and wept as the court heard that if he had lived he would have suffered severe learning difficulties.
Through a translator, Mr Rehman, from Bradford, West Yorks, explained that he and his wife, Rozina, were first cousins.
"We were very anxious whether to have more children," he told the court. "We have recently had another baby with the same problems again."
After expressing his "profound sympathy to the family" Mr Hinchliffe said the cause of death "arose as a direct consequence of the neurological developmental disorder."
He said the family had lost another child through a similar disorder and a third child born had now "presented with difficulties."
Recording a verdict of death by natural causes, Mr Hinchliffe added: "On the face of it this case highlights a cultural and religious issue relating to first cousin marriages and the potential risk of medical difficulty that some medical experts say can result from such unions.
Pakistani parents in Britain are responsible for 3.4% of all births in England, yet shockingly account for 30% of all children born with recessive gene disorders. This is because the acceptability of first-cousin marriages is engrained in Muslim culture. In Bradford, 55% of all Pakistanis are married to their first cousins.
Even though Pakistanis represent just 15% of Bradford's population, Bradford has the second highest number of infant deaths in England, and Pakistani parents are 13 times more likely than the general population to have children with birth disorders. (This according to a study by St. Luke's Hospital in Bradford.)
According to The Guardian, intermarriage between first cousins doubles the risk that children will be born with birth defects. The difficulty of purging this harmful practice will be especially difficult because it is an established religious as well as cultural practice in the Muslim community.
In Norway, the incidence of first-cousin Pakistani unions is slowly declining, but this is due only to a concerted campaign to inform Muslims of the risk.
There are no quick fixes, which means the U.K. will continue to labor under this burden for decades to come. With Britain's socialized medicine, the excessive costs of providing lifetime care for patients with birth defects will fall entirely on British taxpayers. And this doesn't account for the enormous social costs associated with providing education and employment opportunities for this demographic group.
In the worldwide Muslim community, first-cousin marriage rates routinely run as high as 50%, while the rate is about 1% in Europe and 0.2% in the U.S. With unrestrained Muslim immigration the trend du jour, Europe is about to be hit with a medical tsunami which would be entirely avoidable with sensible immigration policies. Alas, the Western world is likely to awaken only after it is too late.
Winston Churchill presciently said 120 years ago, "[T]he influence of the religion (i.e., Islam) paralyzes the social development of those who follow it. No stronger retrograde force exists in the world." (Emphasis mine.)
Islam is pulling British society in a backwards direction. Apart from a spirited revival of the Christian faith and some severe, Donald-Trump style restrictions on Muslim immigration, the United States will be next.
https://barbwire.com/2018/02/09/muslim-inbreeding-dragging-britain-back-19th-century/
---